Ashes 2013-14: Brad Haddin - It doesn't get better than this
Australia vice-captain Brad Haddin cannot wait for the start of the Ashes, insisting: "It doesn't get better."
Last Updated: 20/11/13 2:58pm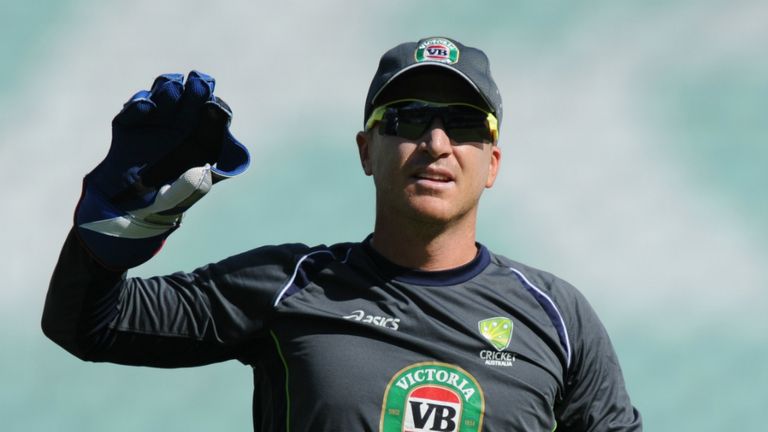 The first Test begins in Brisbane on Wednesday night, UK time, and Haddin is looking forward to getting the build-up out of the way and commence battle with England.
"No matter who you're playing, it's an exciting time the first Test match of any summer," he said. "Here at the Gabba or anywhere it's an exciting time and to add the spice it's an Ashes campaign. It doesn't get any better. It's going to be great fun."
England go into the series as favourites having won 3-0 in the summer, and Haddin said that whilst they deserved their victory, Australia are confident they can turn things around.
"I think England deserve to have the 3-0 tag, they obviously played the better cricket and won the big moments. (But) I think we've shown through that time at the back end of the series that we were playing a brand of cricket that we think can get the results in Test cricket," he said.
"So from that point of view we've gone away and looked at a few areas that we need to improve on to turn that 3-0 scoreline around.
"The expectations are always high when you start a Test campaign and I think the hype that gets built up outside is always good theatre. For us it's cricket as normal, it's an exciting time because it is the Ashes and it's the first Test of the summer. Once the first 10 minutes of the game goes and you take the emotion out of it and start to play cricket it's always good fun."
The series in Australia comes just a few months after the end of the campaign in England, but Haddin says that does not detract from the forthcoming drama.
"I don't think you can spoil an Ashes series, it's too exciting. It's great cricket to play and no matter where you place it in world cricket it's always a contest. It's a great competition, it's great for Test cricket, it's great for Australians and it's great for the English. It's great for anyone involved in the game - it's a good series."
Australia have not lost in Brisbane for 25 years but Haddin does not believe the 'Gabba factor' will matter.
"I don't think it matters where it is. We all like the Gabba because we all like to see the ball flying past everyone's ears - that makes exciting viewing for the spectators," he said. "It was a good contest here. Last time England held off for a draw but that's all a long time ago and a lot has changed since then. There is different personnel around for both teams, it's a new season - who knows what will happen?
"It's the first Test of the summer, it's always big. But it happens to be the first Test of an Ashes campaign, so let's cut the talk and get on with it."
The opening Ashes Test gets underway on Sky Sports 2 HD from 11pm on Wednesday