Ashes 2013-14 Bob Willis and Jason Gillespie on day one of action in the first Test at the Gabba
Bob Willis and Jason Gillespie give their verdicts on the opening day of the Ashes series in Brisbane.
Last Updated: 21/11/13 11:44pm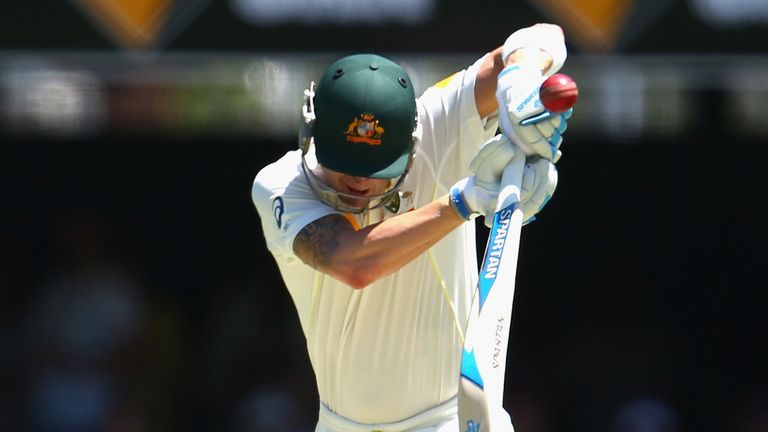 Broad had been targeted by local media and the Gabba crowd for abuse following his infamous "non-walk" during the summer, but he silenced the critics in style as he ripped through Australia's top-order.
The hosts collapsed to 132-6 before Brad Haddin and Mitchell Johnson salvaged some pride with a crucial seventh-wicket stand of 114.
But Broad returned to claim his fifth wicket when he bowled Johnson for 64 with a perfect inducker, and Michael Clarke's side limped to 273-8 at stumps with Broad boasting figures of 5-65.
"It was a sensational performance from Broad," Willis told Sky Sports News. "I don't know what Darren Lehmann was thinking of, trying to incite the Aussie crowd to get on Broad's case because it's only got him fired up.
"He bowled beautifully, as did James Anderson, and Chris Tremlett did a good job as well.
"England were very professional in the field. The fielding was steady, the catching good, and all their plans worked until Haddin and Johnson got together.
"But for Stuart Broad, it was a sensational start to the series. He's already got five wickets under his belt and he'll be hoping to be the leading wicket taker in the series from here."
Gillespie was particularly impressed with Broad's dismissal of home skipper Clarke, whose vulnerability against the short ball was evident when he spliced a well-directed bouncer to short-leg.
Impressive
"The most impressive thing was the discipline of his bowling," said the former Australia paceman. "When he targeted Michael Clarke with some fast, short-pitched bowling, every ball was on the money.
"He got wound up a bit by the crowd, but you don't want to incite ultra-competitive cricketers like Stuart Broad."
Willis insists Clarke needs to work on his problem against short-pitched bowling, although the Australian captain's long-standing back injury makes it difficult for him to avoid.
"Michael Clarke has a problem against the short ball, and Broad has this knack of bowling straight into his ribcage," Willis said. "The ball seams back in and rears up, and we've seen Clarke dismissed like that many times recently.
"It's something he's really got to sort out because the last thing Australia want is their captain walking back to the pavilion with just one run to his name at the start of the series.
"He's got a degenerative back problem which limits his movement. The best thing to do against a short ball is to get out of the way, but because of his limited movement in the lower back he struggles to sway out of the way or to duck.
"He feels he's got to play the ball, and the alternative is to let the ball hit him, but that's not what a batsman wants to be doing."
Gillespie added: "There is an issue with Clarke's back, it's pretty obvious from the way he moves. I would probably encourage Michael to take on the short ball and look to score off it."
Willis also warned that the Australia pace attack should not be under-estimated when England will look to earn a substantial first-innings lead.
"I think if Ryan Harris had played in the opening Test of the summer at Trent Bridge, the result of that series might have been different," he added.
"He was the stand-out bowler for Australia, and people forget that Peter Siddle is one of the top 10 bowlers in the world. He doesn't always get the new ball, but Siddle is a real workhorse who never gives up.
Run-up
"From what I've seen of Mitchell Johnson recently, his run-up looks much better and if he can produce spells like he did at Perth three years ago, England have got plenty to worry about.
"It is a very, very fine Australian seam attack. They've got nowhere near the spinner that England have in Nathan Lyon v Graeme Swann, but don't under-estimate the seam attack, although they're going to have to get wickets with that new ball."
Gillespie also praised the century partnership between Johnson and Haddin, who finished the first day unbeaten on 78.
He said: "They produced some very positive strokeplay, but that's how they play. Brad Haddin has always been like that, as has Mitchell Johnson.
"I think it was the right approach. Maybe the Australian top order were a little bit intimidated, or a bit nervous, whereas Haddin and Johnson had a mindset of having nothing to lose."
Willis added: "Life was easier for them because the ball had gone pretty soft by the time they came together.
"There is definitely some life and spring in this pitch with the new ball, and the Kookaburra ball has a bit of resilience when it's new but it goes a soft as putty later on."
Willis believes the Australians can be satisfied with their run rate, but not the number of wickets they lost on an excellent pitch for batting.
"The run rate was okay at about three an over, which is quite acceptable in a 90-over day. But the problem is that you've got to go out there and do it again because they're eight wickets down," he said.
"If it was 273-3 or 4, that's a pretty good day for Australia. But it looks a magnificent batting pitch and I think it will remain so for the first four days and it may turn later on.
"I would think that Australia have lost three wickets too many on day one."