Ashes paper talk: What the Australian papers are saying
A look at the top stories in Monday morning's Australian papers after their demolition of England in the first Test.
Last Updated: 24/11/13 8:16pm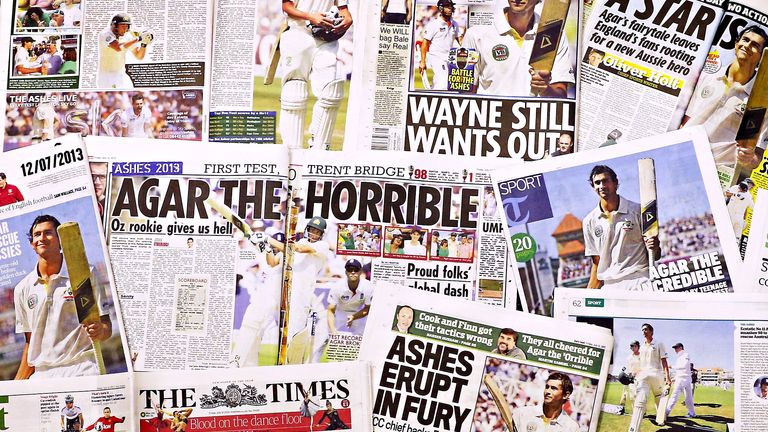 SYDNEY MORNING HERALD
MICHAEL CLARKE'S taunts towards the England players, most notably his broken arm comments aimed at Jimmy Anderson, were three years of Ashes pain spilling over.
NATHAN LYON slayed all his ghosts at the Gabba, according to Chris Barrett, and banished the bad memories of being defied by Faf du Plessis 12 months ago.
LYON also had fun belting out the words to Australia's victory tune - Under the Southern Cross I Stand - after taking over songmaster duties from Mike Hussey when the batsman retired.
MELBOURNE HERALD SUN
CHRIS SABBURG relished his role of spoilsport with his catch ending any hopes Kevin Pietersen had of a big score in his 100th Test appearance. Not the first time of course a sub fielder has had much of an impact on an Ashes match - Gary Pratt, dare we say.
PUNDITS are predicting a run-feast in the second Test in Adelaide with a placid pitch expected to take a real toil on bowlers. There is even talk Australia will play a fourth seamer in James Faulkner.
CANBERRA TIMES
DAVE WARNER is thriving on the amount of provocation he receives from England's players. He'll be happy if it continues.
DETERMINED to return to full strength after falling 1-0 behind in Brisbane, England are likely to leave Tim Bresnan in Queensland to feature in a match for their second-string Performance Squad rather than have him join Alastair Cook's team in Alice Springs.
MITCHELL JOHNSON will 'never forget' his four days at the Gabba, and who could blame him after a man of the match performance.
THE AUSTRALIAN
ENGLAND'S fiercest critics could well be the ones watching from home, although there were plenty of cutting barbs fired by the press as well.
DAVID Warner is trouble. It's hardly breaking news, but there are, as the network anchors say, breaking developments in this on-going story. The diminutive and pugnacious product of the toughest part of Sydney's eastern suburbs has no intention of letting fame, fortune or the bright lights of celebrity change him. No, what you see is what you get. What he is is what he is and what will happen is anybody's guess.
DARREN LEHMANN'S optimistic claims that the return series would suit his players better don't look so foolish now.
THE polarities of the Ashes almost seem reversed, with Australia the voracious hunter, England the anxious hunted, reports Gideon Haigh.
BRISBANE COURIER MAIL
ENGLAND captain Alastair Cook blasted David Warner as former British paceman Bob Willis labelled the Test opener a "big mouth"
AUSTRALIA has shocked England and the cricket world at the Gabba after claiming victory - but history saw it coming. They now have 10 challenges to overcome, top being Mitchell Johnson and next sorting out Jonathan Trott's mindset.
KEVIN MITCHELL could have laid the platform for Australia winning the Ashes after the Gabba curator's day four masterstoke, getting the players off the pitch before a violent hailstorm struck.
WITH Australia taking first Test honours in an action-packed match, cricket is set the rise from its state of stagnation.