Ashes: Michael Clarke punished for abusive comment during first Test
Australia captain Michael Clarke has been fined by ICC for his abuse of James Anderson during the first Test victory.
Last Updated: 25/11/13 7:22am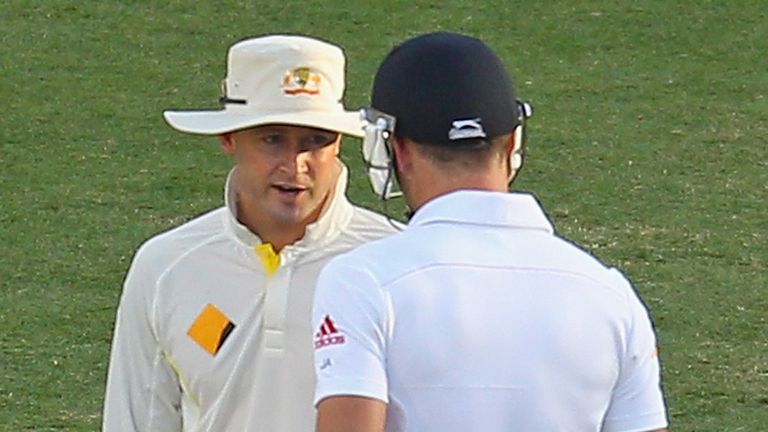 Clarke was overheard on a stump microphone saying Anderson should "get ready for a broken arm" during England's second innings at the Gabba.
Clarke was subsequently cited by umpire Kumar Dharmasena and third umpire Marais Erasmus for breaching Article 2.1.4 of the ICC Code of Conduct which relates to "using language or a gesture that is obscene, offensive or insulting during an international match".
And Clarke has accepted the charges, with the Australia skipper fined 20 per cent of his match fee for the incident.
Clarke had defended his comments at the time as little more than 'banter' when he was questioned by reporters after the match
When put on the spot about his comment to Anderson, Clarke said: "You must have great ears.
Banter
"Through my career, there has always been banter on the cricket field - and I cop as much as I give, that's for sure.
"That's part and parcel of the game ... but all the England players know we certainly respect them, and we understand we have to be at our best to beat them.
"I've heard a lot worse said on a cricket field than what the Australia players or the England players said throughout this Test match."
Sky Sports expert and former England captain Michael Atherton admits that Clarke went too far.
"He overstepped the mark in that he did get caught and was seen wagging his finger in James Anderson's face," he told Sky Sports News.
"It came over the stump microphone pretty clearly. He has got caught, he overstepped the mark and has been slapped down with a 20 per cent fine.
"He isn't the first cricketer to do that in an Ashes series or in any Test series and he certainly won't be the last.
"England dish it out as well. Jimmy Anderson with the ball in his hand is no angel out on the middle of the pitch. If you do dish it out you have to take it back.
Regret
"I am afraid it is one of the tests you have here as an England cricketer, and they are smelling a bit of blood at the moment."
Another former England opener Marcus Trescothick agreed that Clarke had crossed the line with his remarks.
"I think sledging is fair game. They get involved and they love to have a bit of a fight, and certain things are said. There are times when they cross the line and say things they regret," he added.
"I think maybe most of us as professional sportsmen have done it at some point in our career, but this is a bit borderline for me
"I'm not comfortable when you start talking about breaking people's arms and hurting people. Yes, there will be words said and language that can't be repeated but there are fine lines you cross and this is crossing a bit too much for me."