Jonathan Trott has left Ashes tour due to stress-related illness
England batsman Jonathan Trott has returned home from the Ashes tour in Australia with a stress-related illness.
Last Updated: 25/11/13 10:03pm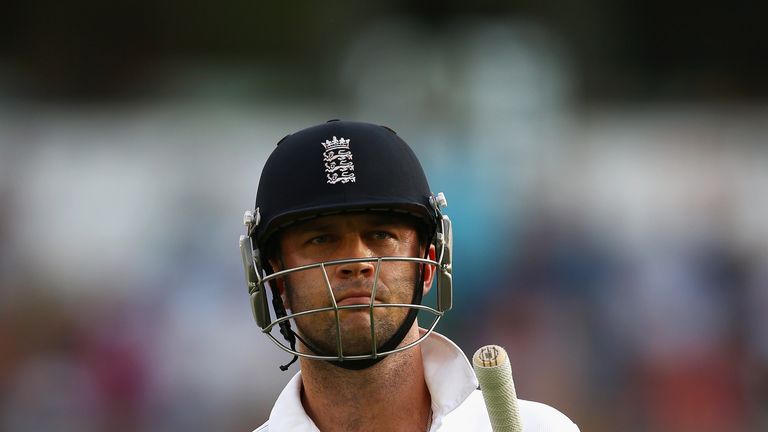 It is a blow to the tourists, coming just a day after they were comprehensively beaten by 381 runs in the first Test.
The 32-year-old batsman endured a torrid time during the match in Brisbane as he was twice dismissed cheaply by Mitchell Johnson.
An England and Wales Cricket Board revealed that Trott will now take a break from cricket "for the foreseeable future", with his return to the game to be decided "in due course".
Trott is quoted in the statement saying: "I don't feel it is right that I'm playing knowing that I'm not 100% and I cannot currently operate at the level I have done in the past.
"My priority now is to take a break from cricket so that I can focus on my recovery. I want to wish my team-mates all the best for the remainder of the tour."
Rest
England coach Andy Flower revealed that the 32-year-old had been suffering from the illness for some time.
"He has always managed it successfully and has been a brilliant international batsman for England and hopefully will continue to be," said Flower.
"He needs time away from this environment, time with his family and time to reassess. This is not the environment for that type of rest and recuperation.
"I would also say that I think players commenting about fellow professionals in the media is disrespectful. I think on this occasion he has got that horribly wrong.
"I think we set different standards to that and one of the reasons we don't like commenting about opposition players is because we don't know what is going on in their dressing room, we don't know what is going on in their private lives."
In the aftermath of the match in Brisbane, Trott's second-innings dismissal was described by Australian opener David Warner as "pretty poor and weak".
These comments were described as "disrespectful" by England captain Alastair Cook, with Warner later admitting he had gone too far in his criticism.
However, Flower said that Trott's departure is not directly related to Warner's remarks and further condemned the Australian for his lack of professionalism.
"We've been on tour for a month and he has had his ups and downs and it is not directly related.
"I will also say that players commenting about fellow professionals in the media is disrespectful and on this occasion he (Warner) has got that horribly wrong.
"We set different standards and one of the reasons we don't like comments in the media about opposition players is that we don't know what is going on in their dressing room or their private lives."
Stronger
Flower also rejected the suggestion that it was a mistake to bring Trott on such a high-pressure tour.
"Jonathan has had a very successful batting career so far. He has managed himself and this condition throughout that time.
"We have systems and personnel in place to support our squad members and they have always dealt with these situations very successfully.
"We had high hopes Trotty would have a successful tour but it has not worked out that way. Hopefully he will come back stronger in the future."
Before learning of Trott's condition, Australia opener Warner said: "I made those comments for a reason. Look, yesterday, the bounce and pace got to them again.
"It is Ashes cricket. Probably went a little bit too far with the comments, but it's cricket and now it's in the back of their mind.
"It was good banter. It's always good banter between us and England.
"It's been a tough six months," he added. "The last 10 weeks have been fantastic. It's the start of something new."
Trott's departure has echoes of former England opener Marcus Trescothick's early exit from the 2006-07 tour to Australia when he left due to a stress-related issue, while Michael Yardy also returned home from the World Cup in 2011 after suffering from depression.
Sky Cricket's Nasser Hussain drew parallels with the Trescothick situation and said: "I played with a very, very mentally tough cricketer in Marcus Trescothick and it unfortunately happened to him as well.
"You feel for Jonathan Trott and you feel a bit for the England team as they will miss him and miss him on the field as he is a mighty fine player.
"He has given a lot for England, a real lot. He needs some time with family, time with the medical people and time get right. Forget cricket leave the rest to the England boys out here.
"We have seen it with Trescothick, we have seen it with Yardy, we have seen it others... Just go and get yourself right.
"Cricket is important but the main thing is your health and getting yourself right for your family. Cricket will come again in the future for him."
Trescothick himself Tweeted his support for Trott and said: "Let's not start pointing too many fingers at the reason why and how, let's just think about the man in the mist (sic) of it all."