The Ashes: ECB umpires manager Chris Kelly says captains must keep a lid on sledging
ECB umpires boss Chris Kelly says the England and Australia captains must ensure their players keep a lid on sledging.
Last Updated: 25/11/13 1:45pm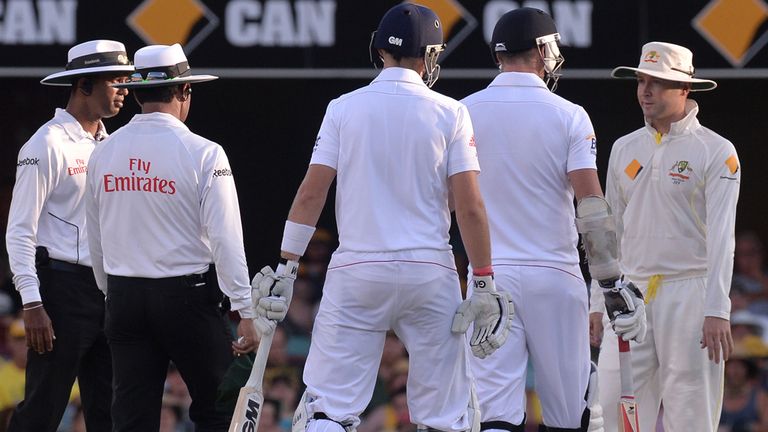 Australia captain Michael Clarke has been fined 20 per cent of his match fee for his on-field spat with Jimmy Anderson during the first Test in Brisbane, while Mitchell Johnson says he expects sledging to continue for the remainder of the Ashes series.
Former players such as Geoffrey Boycott have called for umpires to do more to prevent sledging, but Kelly believes the spotlight should be on the players.
Kelly told Sky Sports News: "I don't think the umpires did anything wrong in the first Test. Basically, they reacted to the context of something that happened.
"The onus should really be on the teams involved to make sure they don't overstep the mark. "
Kelly says that it is important for umpires to communicate with the team captain when they feel his players are overstepping the mark.
"You have to draw the distinction between banter and what you deem to be unfair," he said. "If umpires hear something they feel is obscene or it is insensitive comments they can take action straight away.
"What we look for in our ECB umpires is consistency of approach, that they make sure they have an open dialogue with the captain.
"That the captain must be continually reminded where the line is and that it must not be crossed by him or any of his team.
"As soon as they do step across that line and when the umpire hears something that fits into what they regard as unacceptable language or an offensive comment, then they will take action as per the code of conduct."