Shane Warne blames Jimmy Anderson for sledging scandal at end of first Test
Shane Warne says Jimmy Anderson is to blame for sledging incident with Australia captain Michael Clarke at the Gabba.
Last Updated: 26/11/13 12:04am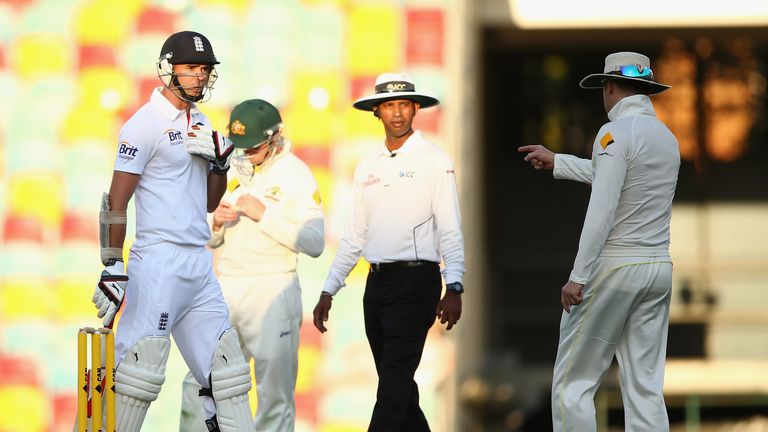 Clarke was fined 20% of his match fee on Monday for an expletive-laden rant towards Anderson in which he hoped the England bowler would have his arm broken by Mitchell Johnson.
Clarke also wagged his finger in a close-up confrontation with the England quick, a renowned sledger, with the umpires stepping in to cool tempers.
Warne, as part of the Channel Nine broadcast team, had access to all of the stump microphone recordings and said via Twitter that Anderson had threatened to hit Bailey in the face.
"I think it's a disgrace that @MClarke23 has been fined. What about what Jimmy Anderson said to Bailey, which wasn't heard," Warne posted.
"@MClarke23 stuck up for his debutant Bailey as he should have too as capt after Anderson said he wanted to punch Bailey in the face.
"Unfortunately only Clarke's reaction to Anderson's was heard live, we all heard Anderson's sledge that led to Clarke reacting.
"Lastly as an international sportsman, if you decide to dish it out ie sledging you have to be prepared to cop it back too & not complain."
Channel Nine apologised to Clarke over his comments being broadcast - under an agreement between Cricket Australia and the television network, the stump mic is not supposed to be on between balls so his threat should not have been recorded.
The explosive incident capped a torrid first Ashes Test with England skipper Alastair Cook also fuming at David Warner calling his team frightened, while singling out batsman Jonathan Trott as "weak".
Matters took a dramatic turn on Monday when Trott pulled out of the Ashes series and returned to England due to a "stress-related illness."