Ashes 2012-13: ECB promises support to Jonathan Trott
Managing director Hugh Morris says the ECB will do everything it can to help Jonathan Trott overcome his illness.
Last Updated: 26/11/13 2:17pm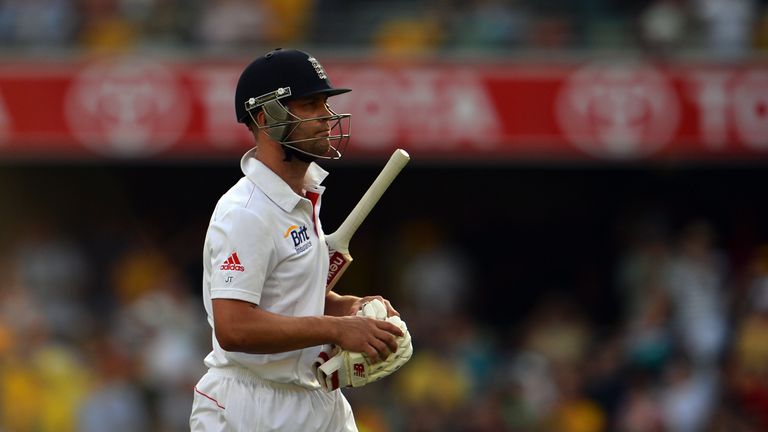 And Warwickshire chief executive Colin Povey says Trott's county will also play their part in helping the England batsman who has flown home from Australia and will play no further part in the Ashes because of his illness.
He is not the first England player to leave a tour with mental health issues - Marcus Trescothick and Michael Yardy also flew home early in previous series.
Morris said: "Mental health is something you can suffer from, whether you're a cricketer or you're working in an office," he said.
"That's why we've spent a lot of time, money and energy in making sure we work with the Professional Cricketers Association to have a network in place for our cricketers - as and when they need it.
"I think we try to be as open as we possibly can about these issues. Yes, we've had issues in the past - and that's why we've set up the network we have, along with the PCA, to look after our players.
"We're aware of the schedules. We try to monitor the workload of our players, and we have the best possible network of consultants in place to support them.
"We take very, very seriously the health and welfare of our players - there's nothing more important than that - and we'll be providing that for anybody who is in need of it."
Proud
Povey said: "He is one of ours. We are very proud of his achievements. He's a fantastic cricketer. When someone comes home, off tour, it's clearly concerning. Our thoughts are with him and Abi and the family. They need to have a bit of space and time to sort themselves out. But we'll be giving him our full support."
Povey confirmed that Warwickshire had always been aware of Trott's stress-related illness and he says the increasing demands made of international cricketers may be to blame.
"Yes, it's something he's had to manage over time. It's something that seems to be increasingly common," he said. "The schedule is pretty relentless. They are away are 210, 220 days a year. It's something that catches up with people.
"I've spoken to those people close to him. But the important thing is to give him a few days to clear his head."
Cricket Australia CEO James Sutherland and Australia coach Darren Lehmann both sent messages of support to Trott.
Sutherland said: "All the staff, management and players at Cricket Australia wish Jonathan Trott well. We hope to see him fit and healthy and back on the cricket field soon."
Lehmann used Twitter to say: "I wish Jonathon Trott a speedy recovery from a tough situation, a safe flight home to be with family!"
The second Test in Adelaide will be shown live on Sky Sports 2 HD from December 5.