Ashes 2013-14: Luke Sutton says Jonathan Trott would have agonised over decision
Former Lancashire star Luke Sutton gives his insight into Jonathan Trott's decision to fly home from the Ashes tour
Last Updated: 26/11/13 1:32pm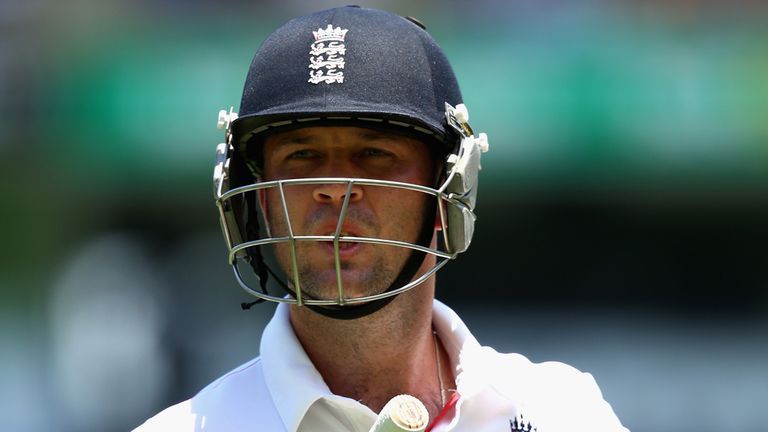 Sutton, a highly-respected wicketkeeper and captain, suffered from a similar stress-related illness and it forced him to give up his successful cricket career.
He says Trott and his family will be having a tough time and that the batsman's decision to leave will not have been made lightly.
"Two years ago I went through a really bad patch and had some mental illness problems, a stress-related illness very similar to what Jonathan Trott's going through now," he told Sky Sports News.
"I needed some help and it did force my hand in retiring from professional cricket and it was a really difficult time.
"He will be have been aware of his responsibilities to the team, they are at the start of an Ashes tour. He's a key player. He would have felt that responsibility of what he was about to do for his family and they will be having a very difficult time now. Everyone will be talking about him.
"All of these things will have gone through his mind and it makes for an incredibly difficult decision.
"I think it would have been a decision made by him but also the England management. I think they would have some very good support mechanisms in place now and they would have said 'look, it's time to take you out of the fire.'"
Sutton says that Trott and his family should expect a difficult time as he attempts to recover.
"For him personally he will be in a very dark, lonely place. His family will desperately want to help him and feel a bit helpless. They will be very sensitive to everyone talking. It is very difficult - it is baby steps from here, for him, for them," he said.
"It's about making a little bit of progress each day, doing it in their own privacy, quietly, with the right people around there. I've been there, my family have been there and it is a very difficult time."