Ashes: Mitchell Johnson insists there will be no truce with 'rattled' England
Mitchell Johnson is unrepentant about Australia's hard-nosed Ashes tactics, and has discounted the concept of a "truce".
Last Updated: 27/11/13 10:02pm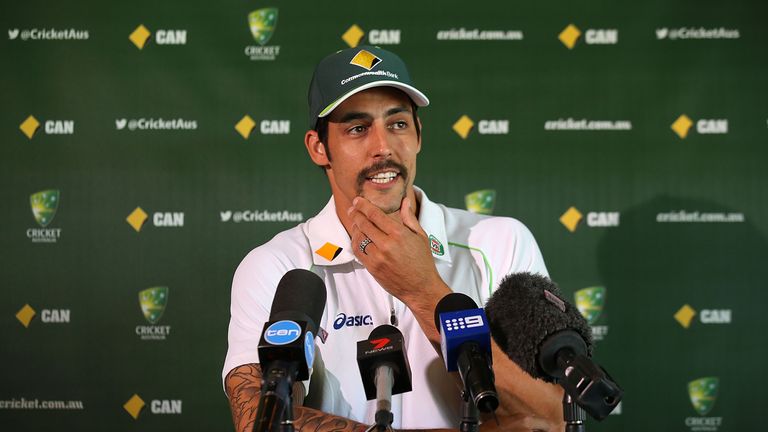 Fast bowler Johnson was the match-winner for the hosts as England were trounced by 381 runs in a controversial series opener at the Gabba.
Johnson finished with match figures of 9-103, as well as scoring 64 and 39 not out.
However the match was overshadowed by angry on-pitch confrontations between James Anderson and Michael Clarke - with the Australia captain fined almost £2,000 by the International Cricket Council.
David Richardson, ICC chief executive, has since confirmed both Clarke and his opposite number Alastair Cook will be spoken to by match referee Jeff Crowe - in an attempt to calm the atmosphere - before the second match of five in Adelaide next week.
England coach Andy Flower also appears amenable to speaking in a similar vein to his Australia counterpart Darren Lehmann.
Rattled
The tourists were especially unimpressed by Australia opener David Warner's public remarks about Jonathan Trott's "poor" and "weak" batsmanship in Brisbane.
Trott was twice dismissed cheaply by Johnson, and has since flown home with a stress-related illness.
After taking nine wickets in the match, however, Johnson is determined to stick with Australia's recipe for success.
"I think it's worked for us. I definitely think they're rattled by it," he said. "They don't like it at all.
"Obviously their coach has come out and wanted a truce from what I've heard. That's not going to change from our end."
Johnson, though, admitted he had sympathy for Trott after being left mentally exhausted after a slump in form while playing in Sri Lanka and South Africa in 2011.
Shock
"It was a real shock for me," said Johnson. "It can be tough at times when it's not going so well. You start to think about every little thing that's going on in your life when you should be focusing on one thing.
"It seems maybe he's thinking that way at the moment, and just needs to just get away from the game.
"For me, when I had my toe injury, it was great to get away to freshen up mentally.
"I just wish Trott the best. Hopefully he can come back later in the tour or in the future, because he's a great player for England and he's done exceptionally well."
Trott has the complete backing of the England squad following his departure from the tour.
England all-rounder Stuart Broad told Sky Sports: "It's heartbreaking to lose Trotty. He's been an integral part of the side for the last four or five years.
"He gave us a lot of solidity at the number three spot.
"But the most important thing for him at the moment is that he knows he's got the support of the changing room.
"He's played 49 Tests, we're all behind him and he's got time at home and a bit of privacy to get himself right."
The second Test in Adelaide will be shown live on Sky Sports 2 HD from December 5.