Ashes: Ground staff aim to add more bounce to Adelaide Oval pitch
The curator at the Adelaide Oval has dismissed fears there will be little in the pitch for the bowlers.
Last Updated: 27/11/13 11:08am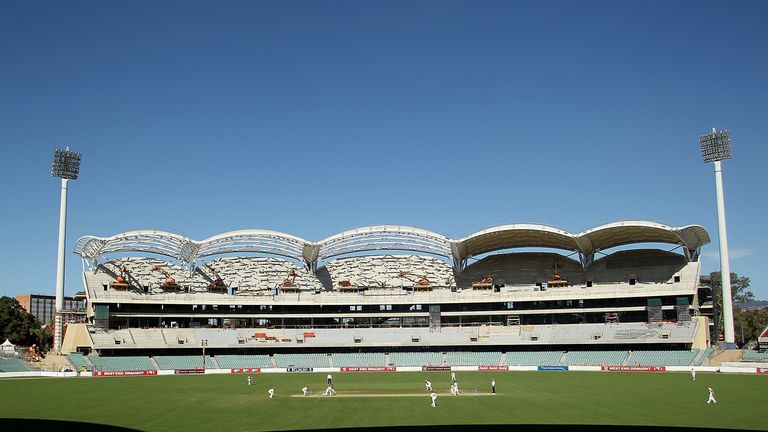 The wicket at Adelaide has traditionally favoured the batsmen, while more than 1,000 runs were scored on the drop-in wicket during the Sheffield Shield match between South Australia and Western Australia.
However Damian Hough and his ground staff at the Adelaide Oval are attempting to give the bowlers something to work with by leaving grass on top.
That should result in more bounce for the pace bowlers, particularly at the start of the Test which gets under way on December 5.
"We are planning to have something early," Hough told Melbourne's Herald Sun newspaper.
"From our end, we are trying to get as much pace and bounce as we can.
Focused
"We will look at leaving a little grass on it just to assist with making it a competitive wicket."
England have fond memories of batting at Adelaide, with Kevin Pietersen smashing 227 and Alastair Cook weighing in with 148 as the tourists scored 620-5 during their innings-and-71-run victory there in 2010.
And all-rounder Stuart Broad claims England will take inspiration from that performance as they look to bounce back from their first Test loss in Brisbane.
"Adelaide is a place you need to score big first-innings runs and we'll be aiming to do what we did last time and we're very focused on that," Broad said.
Defeat would leave England facing their first Ashes series defeat since the 5-0 whitewash in 2006/7.
"Adelaide will be a huge Test match, to get back into the series, but we have
confidence and experience we can do that," added Broad.
"We have a group of players who are strong. They know when they've made mistakes and (need to) put them right."
And Mitchell Johnson plans to make life uncomfortable for England's batsmen in the second Test at Adelaide where the pitch is usually more unpredictable than the one in Brisbane.
The 32-year-old Aussie claimed nine wickets in the first Test which the hosts won by 381 runs.
And with the action now heading to the Adelaide Oval, Johnson intends to give the tourists more problems to think about.
He said: "I'll still come in with the short ball because it is up and down in Adelaide, so it makes it even harder I think.
"At the Gabba, you know it's a true bounce. But Adelaide is not true bounce. So I think that makes it a lot more difficult to play the short ball, and obviously reverse swing comes in to it as well.
"I don't like facing bouncers. No one does. When the ball's coming past your nose on a fast wicket, it's never nice.
"I'm not sure if it's fear (in the minds of the English batsmen) but I'll definitely continue to use it, because it definitely worked in Brisbane."
The second Test in Adelaide will be shown live on Sky Sports 2 HD from December 5.