Ashes: Sky Sports' David Lloyd struggling to see England future for Jonathan Trott
David Lloyd believes Jonathan Trott's international career could be over due to his current stress-related illness.
Last Updated: 30/11/13 7:40am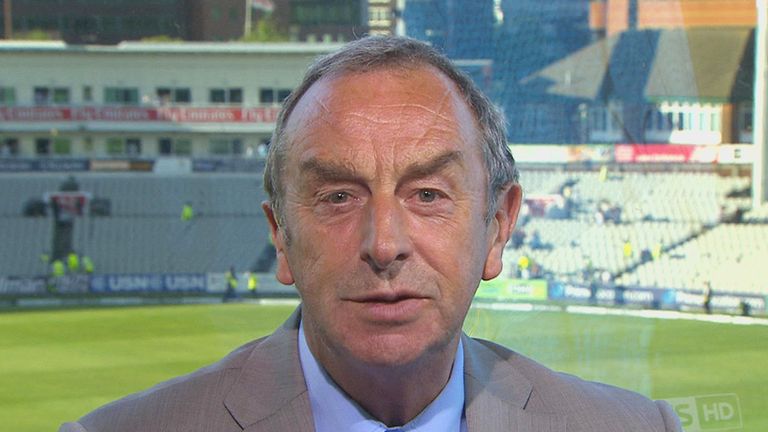 The England management revealed last week that Trott, 32, has been struggling with the condition for a number of years and after a disappointing batting display in the Ashes opener at Brisbane, the South Africa-born batsman has flown home early to take a break from the game.
Former England player and coach Lloyd believes an England return for Trott is now unlikely, drawing comparison's with Marcus Trescothick, who retired prematurely from international cricket due to depression.
Lloyd told Sky Sports: "It's a Marcus Trescothick situation and I just don't see a way back for him other than playing in county cricket, especially given that it's emerged he's been managing this condition for a number of years and bearing in mind it's come to a head when he's in his 30s.
"England go to South Africa soon, they've got the World Cup in Australia and New Zealand as well - I don't know whether travel is an issue - but I just don't see how it can be managed successfully which is a great shame. It's a blow to him because you just don't want to leave an Ashes series. Forget that it's a blow to the team, it's a massive blow to the individual. You just don't leave an Ashes series - you get through it somehow."
England will be hopeful that a short break away from the game will breath new life into Trott, who averages just under 50 in his 49 Tests to-date.
Worrying
But Lloyd believes a return to the game is unlikely judging on how the illness caught hold of the likes of Trescothick, Tim Ambrose and Michael Yardy.
"It's taken just one game for him to go home so I don't think it's a question of he'll get better and come back in because all the pointers previously suggest you don't," added Lloyd.
"You just have to read Trescothick's recent quotes. I'm no expert on his condition (stress-related illness) but I would have thought that he was absolutely at his wits end, as Trescothick was."
Trott is the latest in a worryingly increasing list of cricketers to have been affected by a stress-related illness.
Lloyd admits the rigours of Test cricket, as well as the time spent away from home, is sometimes too much for certain individuals to handle.
He said: "I stress again that I'm no expert but it's intriguing that the game of cricket is a long drawn out affair. The playing day is six-and-a-half hours, continuously for five days in a Test match - that's why it's called a Test. You spend a lot of time away from home, from family. You have to learn to deal with success and failure which I think is the crux of it.
"Some can do it very easily, the majority do it very easily worldwide but it's apparent that this condition affects a number of people. Through my involvement with the PCA (Professional Cricketers' Association) you only have to look at the 'lesser players' who have suffered dramatically from this condition and have left the game. Then there's the tragic suicides that have happened in cricket. It seems the prevalent sport.
"One or two players in my time needed carefully management, and what I mean by that is an arm around a shoulder. But others, like Michael Atherton, could put on such a steely face on that you never knew what was going on!"
Australia opening batsman David Warner publically spoke out on Friday to offer his sympathy to Trott, just days after labelling his dismissal in the second innings of the first Ashes Test 'poor' and 'weak'.
Lloyd applauded Warner for speaking out, but also voiced his concern over the amount of controversy Australian sportsmen in a variety of sports are getting themselves into.
Lloyd said: "Warner has had a time of reflection and acknowledged that he was out of order and I think that was good of him to do that.
"That said, there is a pattern in very recent times. David Warner fighting, in a nightclub, (Rugby League star) Billy Slater fighting, in a nightclub. There are two fellas in the AFL, one has broke the other's jaw, in a Los Angeles nightclub. These are all elite sportsmen and it horrifies me that they put themselves in that position and then get into that kind of fracas."