Ashes: Jimmy Anderson won't be cutting back on his sledging in Adelaide
Jimmy Anderson has no plans to stop sledging and has no problem with anything said to him during the Ashes so far.
Last Updated: 01/12/13 1:50pm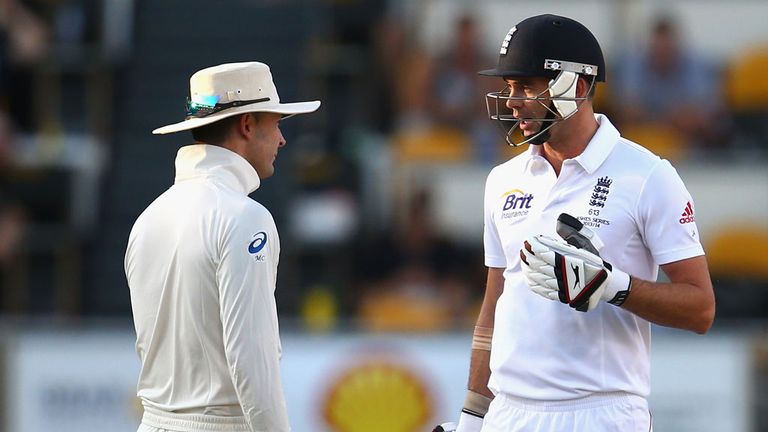 The England pace bowler was on the end of a controversial rant from Australia captain Michael Clarke in the first Test at the Gabba, when he was warned to get ready for a broken arm.
Anderson admitted the atmosphere in Brisbane was one of the most hostile he has experienced but he does not want - or expect - that to change over the rest of the series.
"I have absolutely no problem about any of what the Australians were doing on the field," he wrote in his Mail on Sunday column.
"I probably dish it out more than most in the field, so I generally get it back more than most. I expect it and accept it.
Concentration
"I try to get myself into a battle. It heightens my concentration. Certainly in the last few years I think I've developed it as a skill and it has helped me take the wickets that I have."
Anderson does not think the stress-related illness that has forced team-mate Jonathan Trott to leave the squad will have any effect on proceedings, although he did briefly think he might have to stop his sledging.
"Sometimes, certainly after the game with what happened with Jonathan Trott, you sit down and think, is it actually that important?" he added.
"But when you're out there and batting, all you are concentrating on is trying to win the game and, in this case, one of the most important series in our careers."
Australia opener Chris Rogers felt Anderson had the abuse sent his way coming after previous indiscretions.
He said: "He said a few words to me so it all comes around. It's all part and parcel and I am sure he understands. It will be interesting to see how they react in this game.
"They got into us in England and they were probably due some. This is just another game and they will come hard at us. It may have been blown out of proportion a bit and I think England understand it happens in a game and all if fair out there."
Watch the second Ashes Test between Australia and England from Adelaide - coverage starts on Wednesday at 11:00pm on Sky Sports 2