Ashes 2013/14: Graeme Swann's team-mates pay tribute after the spinner calls it a day
Graeme Swann's England team-mates have been reacting on Twitter to the news of the off-spinner's retirement.
Last Updated: 22/12/13 6:58pm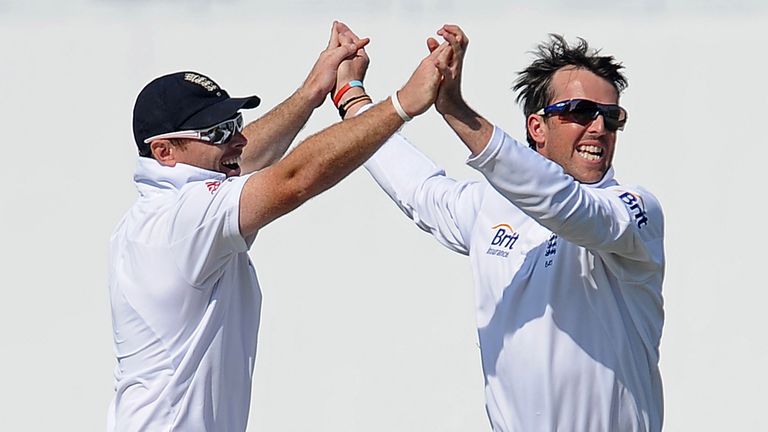 The 34-year-old Nottinghamshire star shocked the cricketing world by revealing he was calling it a day with immediate effect.
Here is a selection of the tweets:
Ian Bell: "Congrats @Swannyg66 on a great career bud. Pleasure to have played with you mate."
Tim Bresnan: "Huge congratulations to @Swannyg66 on a great career in cricket.I will miss your constant put downs and abuse of my mental capacity.#loveyou...Also,many batsmen around the world have just exhaled a huge sigh of relief. Due to your constant challenge of the stumps and prodigious spin"
Ben Stokes: "What a career Swanny has had,very sad to see him retire,great bloke,won a lot of games for England and one of the funniest around"
Steven Finn: "Sad to see @Swannyg66 retire today. Going to miss you a lot. Congratulations on a fantastic career. Hope the next chapter is as exciting!"
Monty Panesar: "Congrats @Swannyg66 on brilliant career,will miss playing with the fellow twin..£spintwins"
Ravi Bopara: "Congrats on great career @Swannyg66"
Luke Wright: "There will be a lot of international left hand batters thinking Christmas has come early knowing they don't have to face @Swannyg66 anymore!"
Jos Buttler: "Congratulations @Swannyg66 on a brilliant career. Great player and very funny man!"