The Ashes: Andy Flower wants to stay on lead England into new era
Andy Flower believes he is the right man to lead England into a new era in the wake of their Ashes humiliation.
Last Updated: 30/12/13 11:25pm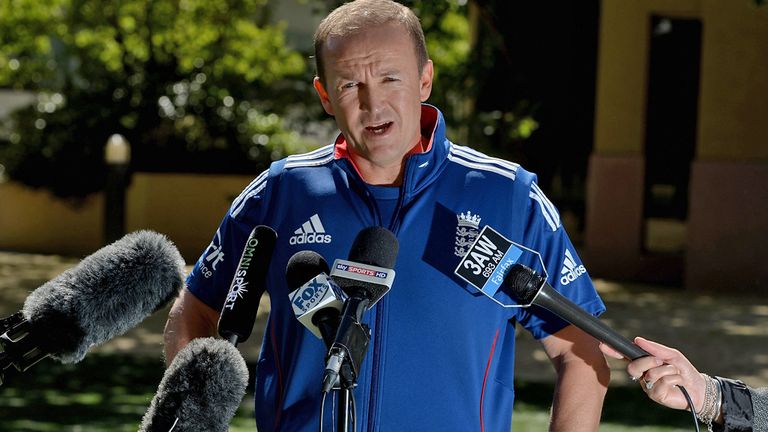 Speculation over Flower's future has provided an ongoing sideshow to a Test series utterly dominated by Australia, who are in sight of a 5-0 whitewash with just Sydney to come.
But amid rumblings of criticism about his style, viewed by some commentators as too intense, Flower now insists he wants to stay on and rebuild the side following the loss of two key players in Jonathan Trott and Graeme Swann.
He said: "I do think that some things have to change, because I do think this is the ending of a certain era for this team - and after Sydney it will be the start of some fresh cycle in some way.
"I'd like to carry on. I love exciting challenges. I would have the appetite to do that. I still have confidence in my ability to lead this group in the right direction.
Intensity
And the Zimbabwean, due to hold talks with the ECB's new chief executive Paul Downton this week, has no intention of relaxing his coaching style if he continues in the job.
"If I may say so, I think it's 180 degrees inaccurate," Flower said in response to suggestions he has overworked England's players.
"If anything, recently, I think I have relaxed a little in certain ways. One of the areas...we can improve and change I think...I could bring more intensity and a closer control on certain things."
Where Flower does envisage change is in the playing personnel, a process which has already begun following Swann's retirement and Trott's early exit from the tour on medical grounds.
"We have seen Trott disappear at the start of the tour; we have seen Swann disappear after three Test matches - and those have been two absolute stalwarts for us," he said.
"We hope Trott comes back at some stage - we don't know about that - but with the passing of those two stalwarts and some of the results we have got on this tour, I think it is fair to say that post-Sydney the England management should view this as starting afresh."
Watch the fifth and final Ashes Test live on Sky Sports 2 from 10.30pm this Thursday