Alastair Cook: The only way is up for England after 5-0 Ashes defeat
Alastair Cook told England they would need to show courage to lift themselves from "rock bottom" after 5-0 Ashes defeat.
Last Updated: 05/01/14 9:51am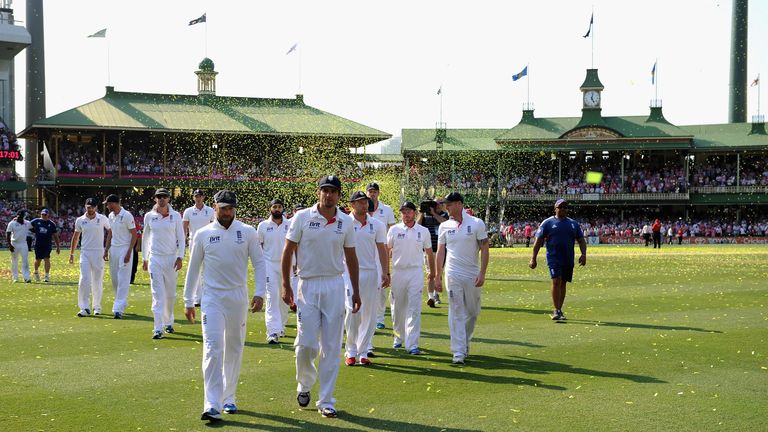 Yet another dismal collapse saw England bowled out for 166 in their second innings to confirm a 281-run win for Australia.
To add insult to injury, the result saw Australia leapfrog them in the International Cricket Council rankings as Cook's men slipped to fourth.
It is the second time in three series in Australia that England have been beaten 5-0, and Cook looked back to that occasion for proof that his side can recover.
"When you hit rock bottom the only way is up," he said. "It happened in 2006/7 and things turned round with a lot of hard work and a lot of dedication to the cause.
"We have to look at ourselves, look at where we want to go. We have a huge amount of talent in England. We haven't shown it in these five games. There's a lot of courage in the dressing room which will need to come out now."
Cook admitted it was tough to take such comprehensive defeats in all five games.
"It's tough knowing you've played in five games and been beaten badly in five games," he said. "As a sportsman that's the hardest thing to take.
"We left everything out there but we weren't good enough. We weren't good enough to turn it round.
"We tried to change the way we played but you've got to give credit to Michael [Clarke] and his team, anything we could throw at them they responded incredibly well and they thoroughly deserve their 5-0 win."
Cumulative damage
The manner of England's performance on what turned out to be the final day of the series led some to suggest they surrendered too meekly.
Cook told Sky Sports: "I don't think they threw in the towel. It's the culmination of being under the pump. We were all determined but you all know that when you get behind the eight ball... If it was a boxing match it probably would have been called off earlier than today.
"We've had our backs against the wall. I'm proud of the way the lads have stuck together as a team. We've tried our hardest but the bottom line is we haven't been good enough."
While Cook accepted his side had not been good enough, he denied the suggestion they had been defeatist and gave credit to the opposition.
"That was the best bowling attack I've faced in my career," he said. "I can only say what goes on behind closed doors, the practice we do with Goochy, the meetings - if you're telling me that's defeatist, I think you're very wrong."
Asked what he as captain had learned from the series, Cook said: "At certain times you've got to take the game more by the scruff of the neck. They were 130-5 a number of times and we couldn't get Brad Haddin out. You've got to give him a lot of credit.
"And probably at certain times [you have to] be stronger in certain decisions on the field."
Cook reiterated his desire to stay in the job.
"If I was a football manager I'd be scared of the old vote of confidence from the board," he said. "But I want to be the man to try to turn this round. Whether I'm given the opportunity is not my decision but I want to try."
Team spirit
Cook insisted his team were a tight unit and backed them to use the experience to improve.
"One thing we can say we've done well is stuck together," he said. "At times like this factions can corner off in the dressing room and there can be a lot of backstabbing but I can safely say that hasn't happened.
"But the bottom line is out in the middle is where it counts. If you look back at 2006/7, it made me take a good look at my game, it made us have a real look at ourselves as an England team and a lot of good came from it.
"I have a feeling this will be good for us in the long term.
"A lot of those young players... Stokesy's done a fantastic job for us and he's a real shining light in being able to balance that side. He knows how much hard work [is needed] and how hard Test cricket can be after playing in this.
"Rooty, we know he's going to be a very good player. He's going to have to look at his technique, so that will only bode well in the future. Gary Ballance as well I thought looked very composed at the crease.
"But when this happens you look at yourself, you look at your technique. Where can you improve? It happened last time and I think it will happen again this time."