Ashes 2013/14: Ryan Sidebottom - England needed Onions in Australia
Former England fast bowler Ryan Sidebottom says England made a big error leaving Graham Onions out of the squad.
Last Updated: 06/01/14 2:12pm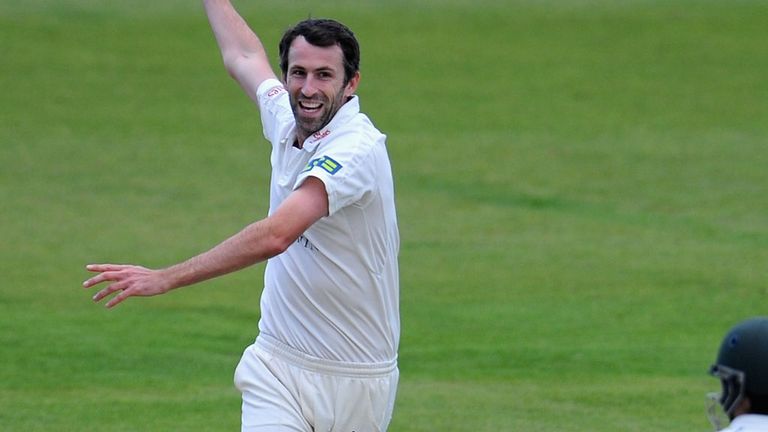 Durham star Onions has been one of the most prolific wicket-takers in county cricket in recent seasons, but he has found himself pigeon-holed by the selectors as a bowler for 'English' conditions.
Instead, England's selectors took Boyd Rankin, Steve Finn and Chris Tremlett to Australia - and between them they ended up playing in two Tests as England were hammered 5-0.
Yorkshire left-armer Sidebottom says England now to re-think their team, and he would bring Onions straight in.
"Andy Flower said it could be the end of an era - and I would say so for one or two players. From the first Test, England got blown away - whether it be from the stick they got from beyond the boundary or from the Aussie players - and they never recovered from that," he told Sky Sports News.
"Australia out-batted, out-bowled and out-fielded England - but that's the way it goes. England went into the series in good form and on the back of an Ashes series win - I was as shocked as anyone to see a 5-0 whitewash. It's very disappointing.
"Australia have been through a transitional period over the last two or three years and are now in a really good place with solid foundations - I think England need to bring some young lads in and see how they go.
"The thing that disappointed me was that you had Graham Onions, who's been a really good county bowlers for the last few years and gets the ball to pitch up and move around - and England went for three big men who we never really saw.
"Only the England coaching know the reasons why but for me it was disappointing - Mitchell Johnson with the pace that he was bowling, Siddle and Harris, the way they pitched the ball up and probed away at the England batsmen - they were all immense.
"I felt sorry for the England bowlers because if you don't get a score over 200-250 runs on the board you're always going to be running uphill and it's a tough ask for any Test team.
"I'd expect England to come back stronger - they've got some fantastic players in that team - proven players. It was just maybe a tour too much and they were all out of form at the same time.
"The Aussies put them on the back foot from the first Test and they never recovered - but a few of the players now have a bit of time off to reflect, improve on their game and get England back to number one."
One young player who was a big success was Ben Stokes, who scored the only century of the series for England and finished as the team's second highest wicket-taker.
"I wasn't surprised, he's a serious player. He's a strong character and maybe what England have been missing since 'Freddie' Flintoff retired - someone who can bowl with good pace and who comes in at number six and plays his shots to put pressure back on the opposition," Sidebottom said.