England need time to rebuild confidence after Ashes defeat in Australia
Alistair Cook's England side have been left shell-shocked by their Ashes thrashing says top sports psychologist
Last Updated: 06/01/14 3:36pm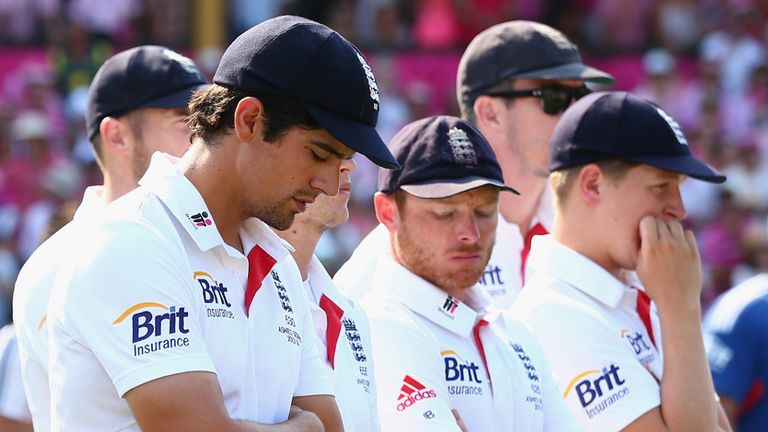 Australia needed just three days to beat England by 281 runs in the fifth and final Test in Sydney to complete a 5-0 series whitewash over the visitors, capping a miserable tour for England.
And Caulfield says England will have their work cut out to pick up the pieces from the thrashing they took against their bitter rivals.
"I think it has left them pretty shattered at the moment and I think it will take them sometime to recover," Caulfield told Sky Sports News.
"They looked completely broken by the end of the series and with some justification I think. What they were hit by - this force of Australia - has left them completely shell-shocked and it's a wreckage at the moment."
"I stress at the moment because now there will be I'm sure a major operation to rebuild the team and rebuild the image of the team as well which has taken a hiding on the pitch and off the pitch.
"There's much work to do but it was a completely broken unit by the end of this torturous series."
No over-confidence
Caulfield dismissed the notion that England came into the series overly-confident and expecting to win, insisting it was more a case of underestimating of what they were up against down under.
"Some of the easy things we've heard so far have been the arrogance that they thought they would just turn up and win easily - I don't buy into that at all," he said.
"The one thing that they didn't expect was the sheer hostility, of not just the opposition, but the whole of Australia.
"They walked into the most hostile environment on and off the pitch. Obviously we now know one or two were in a fragile state of mind at the time and slightly feeling the pressure of international cricket, but the sheer hostility and relentlessness of it I think shook them. They (Australia) never let up for one single day I think either on or off the pitch.
Caulfield suggested England follow the lead of Australia coach Darren Lehmann who he believes spearheaded such a comprehensive Australia victory with a back-to-basics approach.
"I think what Darren Lehmann did was he actually simplified it," he said. "People will say that's quite old school I use the phrase 'right school.' I think he got their nasty spirit back together again.
"He used very few players - only 11 over the entire series - that's never happened before. I think he swept away some of the things which I think get in the way of playing top level sport he actually simplified it. Some of the analysis was taken to one side.
"I bet they sometimes did it in a less scientific way and I think they actually fell back in love with playing cricket and the public fell back in love with their team and that's a huge thing."