Sky Sports pundit Bob Willis has backed Andy Flower and Alastair Cook
Former England Test bowler Bob Willis believes Andy Flower and Alastair Cook remain the men to take England forward.
Last Updated: 06/01/14 11:15pm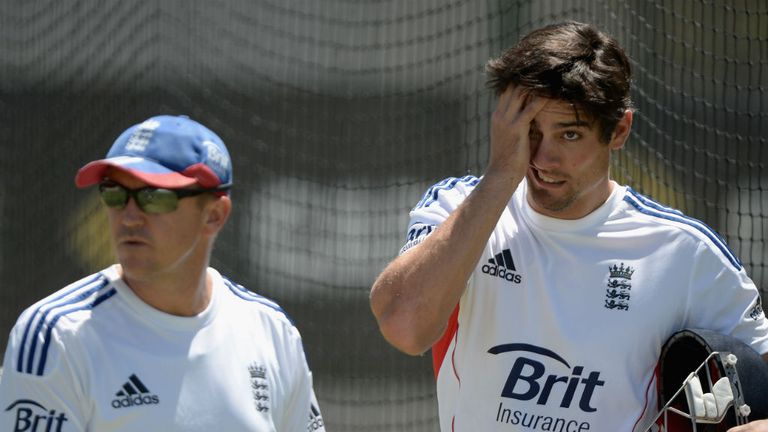 The tourists were whitewashed 5-0 in the recent series as the home side gained revenge for their 3-0 defeat in England during the summer.
Flower's side failed to make over 300 runs in any of their five first innings throughout the series with only one batsman (Ben Stokes) scoring a century to Australia's 10.
In addition, Mitchell Johnson claimed 16 more wickets than the top England wicket taker, bowling with a pace and hostility with which the tourist batsman were unable to cope.
Team director Flower and captain Cook have stated their desire to stay on to lead the rebuilding of the side, with both having received a vote of confidence from England and Wales Cricket Board chief executive David Collier.
And Willis also has faith in the two men.
"I think they are the men to take England forward," Willis told Sky Sports News. "It was a surprise they were given a vote of confidence even before the last Test match finished.
"But Collier and the new managing director, Paul Downton, who is out in Sydney, along with James Whitaker the new national selector, have talked about this and have all agreed that Cook and Flower are the men to take England forward to the next Ashes series in 2015."
Charge
However, Willis does suggest that Cook needs to take greater control of key decisions during games in the future.
"He has got to decide who is in charge on the field," he added. "It should be him.
"He has senior bowlers in Anderson and Broad but he has got to set the field he wants and the bowlers have got to bowl to his direction. I'm not sure that always happened."
Former England batsman Marcus Trescothick agrees with Willis.
"He will have learnt a few things from this series, watching Michael Clarke leading a very good, aggressive unit," said Trescothick. "He might take on different attributes.
"He may need to be more forceful, more demanding of the bowling unit."
Change
Much of the talk in the aftermath of the series has been of drastic change in the England side.
While both Willis and Trescothick agree that change is needed, they have urged the England management team to resist the urge to make wholesale alterations ahead of the hoem series against Sri Lanka in June.
"I think there is a change in place already," said Trescothick. "We've seen a number of players come into the side. Ben Stokes has come in and done very well at six, Gary Ballance played in the last Test match and looked OK.
"I really hope Kevin Pietersen stays around as they need that X-factor player to win games. Joe Root will probably come in at the top of the order and they will build a side around that. You need the blend of experience to blood the youngsters."
Willis added: "You need seven of the senior players with four youngsters - one of whom will be Stokes - to slot around them.
"Life will be easier in Sri Lanka because they won't be facing the danger of a bowler like Mitchell Johnson so getting on the front foot and scoring runs again will make a welcome change for the batting line-up."