Kevin Pietersen indicates desire to continue to play for England and to win back Ashes
Kevin Pietersen has indicated his desire to carry on playing for England and to help win back the Ashes in 2015.
Last Updated: 07/01/14 11:20pm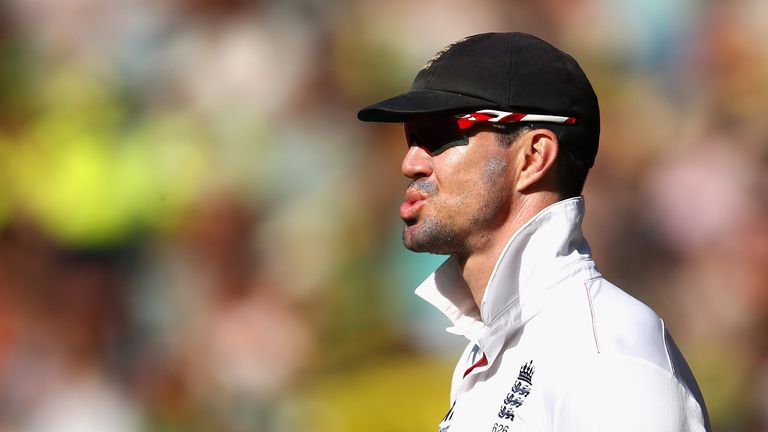 There has been speculation that the South African-born batsman could be one of the senior players to lose in his place in the side following the humiliating 5-0 whitewashing by Australia in the recent Ashes tour.
It has also been suggested the 33-year-old, who has recently been suffering from a chronic knee problem, could be set to retire.
However, on Monday, Pietersen, who has scored 8,181 runs in 104 Test matches at an average of 47.28, tweeted his intention to carry on representing his adopted country.
"Very disappointed to lose 5-0, and not to score more runs personally. Tough tour against a top class team. #Ashes," he wrote.
"I want to thank all the England fans for their terrific support. And I'm determined to help regain the Ashes in 2015."
Although Pietersen ended the recent Ashes tour as England's leading run-scorer with a modest 294 from 10 innings, the manner of some of his dismissals led to heavy criticism, with some questioning his attitude and application.
Pietersen's commitment to the England cause comes a day after coach Andy Flower and captain Alastair Cook both signalled their intent to continue in their roles and help to rebuild the side in the wake of the debacle in Australia.
Michael Vaughan has defended Pietersen although he fears the Surrey man may be made a scapegoat for the Ashes catastrophe.
Writing in the Daily Telegraph, Vaughan, who was captain when Pietersen made his England debut in the 2005 Ashes series, said: "Alastair Cook needs to use Pietersen properly and ask him how he sees his own future, and his view on the style of cricket the team have to play to become number one in the world again.
"I fear England will not do that and decide to get rid of Pietersen. That would be a sad loss for English cricket, the game cannot afford for that to happen.
"He is too good a player. The team will be dull without him. Okay, you have to have the right characters in the dressing room. But if you cannot manage someone such as KP then you are not doing your job properly.
"It would be a huge loss if this England management cannot get two more years out of Pietersen and let him lead them to playing the brand of cricket we want to see. I guarantee if they give Pietersen responsibility they will win more games, win them quicker and gain new fans."
Former England batsman Marcus Trescothick agrees with Vaughan and added on Sky Sports News: "I really hope Kevin Pietersen stays around as they need that X-factor player to win games. Joe Root will probably come in at the top of the order and they will build a side around that. You need the blend of experience to blood the youngsters."
Sky Sports expert Bob Willis believes that Pietersen either needs to have a vital role in the England set-up or that he should not be involved at all going forward.
Wills commented: "He probably should be vice-captain in this side and picking the side when England are on tour with the captain and coach. That's what should happen.
"Otherwise if he's going to be peripheral figure he might as well be totally peripheral and leave the stage."
Fellow pundit and ex-England international Mark Butcher hopes Pietersen is a positive influence on England's youngsters, like he is when with his country Surrey.
"On the rare occasions Kevin Pietersen goes back and plays County Cricket for Surrey there are a lot of very young and experienced players there and they all say that he spends an enormous amount of time with them, talking to them, throwing balls at them and helping them with their game," said Butcher.
"So the public persona, what we hear and see or perceive of Kevin Pietersen isn't necessarily the truth when he's behind closed doors with young players. I would hope that that's how he is in the England setup should he be in there, having to coach along the likes of - let's say for example James Taylor gets himself back in the side or Gary Balance, who's in the team at the moment.
"He's the same with them, but that's not the story we're hearing from over there. A lot of people are parking a lot of England's problems behind closed doors at KP's door, which I don't know the veracity at that."