Andy Flower insists individuals will not be singled out after England's Ashes whitewash
Andy Flower insists there will be no 'witch hunt' after England's Ashes whitewash in Australia.
Last Updated: 07/01/14 6:42am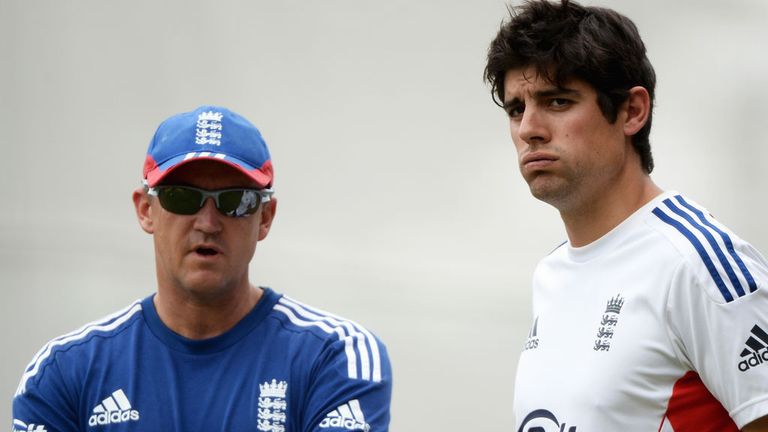 Flower will continue his role as team director, despite the humiliating 5-0 defeat this winter, and he admitted that changes need to be made if England are to enjoy another era of Test match success.
A number of senior players face uncertain futures as Flower and skipper Alastair Cook assess the disastrous series, but the England duo are not prepared to single anyone out.
"I don't want to go into talking about individuals right now," he said.
"This isn't a witch hunt - certainly not on my part anyway. We need to make wise decisions about who are the players that need to join Alastair Cook in the rebuilding of the England cricket side."
Talks
Flower started to review England's displays ahead of the fifth Test defeat and will hold more talks next week with England and Wales Cricket Board managing director Paul Downton.
"We met prior to the Sydney Test and are meeting again (on Monday) - with a little more information," he said.
"He was very supportive. I'm not looking for the ECB to have the same ideas I've got.
"We're looking to have a proper, robust discussion about what the best ideas are for English cricket. We've got to get our heads together.
"What I've always tried to do in my role is make the best decisions in the interests of English cricket - and that is what I'll do, with Paul."
Faith
Cook's captaincy has come under the microscope after England became only the third team in Ashes history to suffer a 5-0 thrashing.
But Flower has faith in Cook's leadership and expects him to regain his form with the bat.
"I think Alastair Cook can lead the renewal of the England cricket side," he said.
"A description of him creating his own team, I think, is a good one. He will grow into that type of leader where he can call a team absolutely his own.
"Alastair is an outstanding cricketer and a very fine man, but his career was never going to go upwards continually.
"No one's career does. This is a down time for him as a batter. It is a tough time for him, but he'll be learning a lot about himself and he'll be learning a lot about the game."