Australia celebrate England whitewash at reception alongside Sydney Opera House
Australia have celebrated their 5-0 whitewash of England at a reception beside the Sydney Opera House.
Last Updated: 07/01/14 11:40am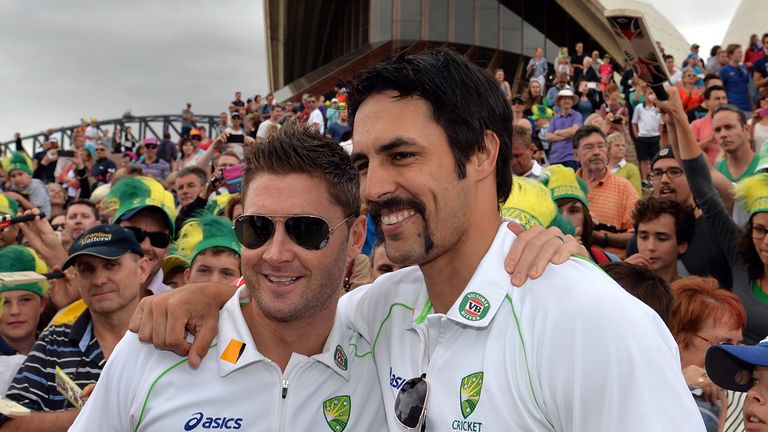 Australia Prime Minister Tony Abbott, the replica urn and crystal trophy were in attendance alongside Australia's 'unchangeables' - the same XI who beat England in every Test - and thousands of delighted fans to celebrate the regaining of the Ashes for the first time since 2007.
Australia were dominant throughout the series, scoring over 1,000 more runs than the tourists in four matches while winning by eight wickets in Melbourne.
And Warner, who has been a controversial figure in the two back-to-back series, delighted in England's demise.
"Apparently I said some rude things that were picked up on stump mic, that you can't say - but I don't recall any of them," said the combative opener.
"You don't cross that line. Probably we got close to it a couple of times, but I think we really got into their heads.
Amazing achievement
"With Johnno [Mitchell Johnson], the pressure of the other bowlers up the other end allowed Mitchell to come out and fire like that. It was awesome."
Addressing the crowd, captain Michael Clarke thanked all those who cheered his team on this winter.
"It's an amazing achievement," he said. "The players are extremely proud, and I think every single one of the public should be as well.
"The work the guys have put in over a long period of time, we've finally got the rewards. It's extremely satisfying, and shows hard work does pay off.
"We knew this series was going to be tough... but when we had the opportunity to stand up, every single one of the players did that," he added.
"Our preparation and hard work are the reasons we sit here with success today."
Johnson was able to reflect in the glow of being named Man of the Series having been the butt of Barmy Army jokes in series' past.
"It's just been amazing," he said.
"The 'Barmy Army' have given me a hard time over the years. So it was nice to put up five fingers for the 5-0 win... to be sat up here now, just seeing all the smiling faces, it's really cool."
Abbott spoke for a nation, emphasising how much any Ashes success means to Australia - let alone a whitewash.
"It is an extraordinary honour to congratulate this champion team, and this team of champions," he said.
"In our country, summer means cricket.
"A good summer is Australia versus England, and a great summer is one where Australia beats England ... and didn't we whip them in this particular series?"