Ashes 2013-14: Boyd Rankin admits nerves got the better of him on England Test debut
Boyd Rankin believes an attack of nerves was responsible for his disappointing Test debut in Sydney.
Last Updated: 08/01/14 1:06pm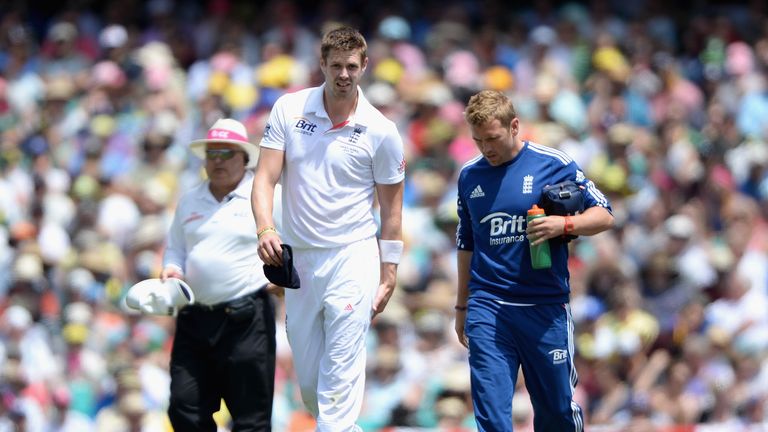 The former Ireland international was called up for the final match of the Ashes series but could only manage match figures of 1-81 as Australia completed a 5-0 whitewash.
He was also forced to leave the field on two occasions during Australia's first innings with what appeared to be a hamstring injury but which was later revealed to be cramp.
The display has left some questioning whether Rankin will play Test cricket again, with the Warwickshire man admitting his troubles had left him feeling like he was "letting the team down".
"I'd worked hard for a long time to get here and, don't forget, gave up my Ireland career, so when the team was named the day before the Test after training, it made it all worthwhile," Rankin wrote in his column with the Belfast Telegraph.
"It was at lunchtime that I started getting cramp and I was fighting against it through my second spell.
"I had no problem running around the outfield but as soon as I landed when bowling the first ball of my third spell it seized up. I wanted it to disappear so badly but there was nothing I could do about it.
Tension
"I have rarely suffered from cramp in the past, I think the last time was against England at the World Cup in 2007, another big occasion, so I suppose it was down to nerves and tension and, of course, I hadn't played in a match for five weeks.
"My first thought was that I was letting the team down because the other lads had done so well, especially Ben Stokes getting six wickets.
"So I gave it one more go after tea, but, again, when I landed on bowling I got the same sensation and it was just impossible to keep going, so I spent the rest of the innings in the dressing room.
"Although I managed 12 overs' bowling in the second innings, I never felt 100 per cent. I was still fighting through the cramp and as a result, I didn't really have any rhythm throughout the game and it showed in terms of my speed which was down on where I normally would be."
Although the 29-year-old admitted to seizing up on the big stage, he is eager to earn another chance to play Test cricket for England.
"Now that I've got a taste of it, I have the urge to work even harder and play a few more," he added.
"The first couldn't have gone much worse, having to come off with cramp it was a tough few days. It was only on the last day that I felt pretty much at home but I have learnt so much from those three days in terms of what I want to do if I get another chance."