Cook: Broad will come good
England captain Alastair Cook is not about to panic about Stuart Broad's ODI bowling form.
Last Updated: 04/07/11 12:23pm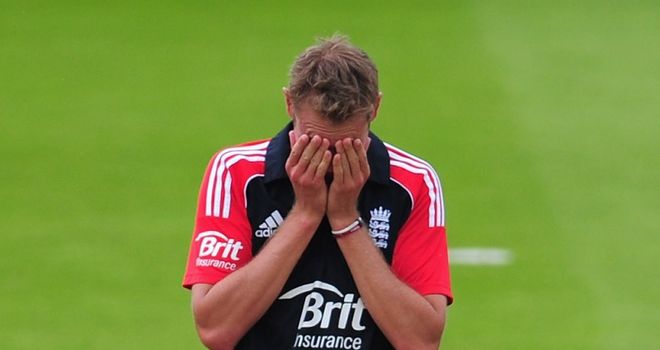 Alastair Cook is not about to panic about Stuart Broad's bowling form as England look to fight back in the NatWest Series against Sri Lanka.
Broad was wicketless again at Lord's - he has yet to strike in three 50-over fixtures against Sri Lanka so far - and lost 50 percent of his match fee for losing his temper at Headingley.
Broad heads for his home ground Trent Bridge on Wednesday with series figures of 0-154.
But after England's six-wicket defeat at HQ, Cook said of the fast bowler's struggles: "I think it's just one of those things."
Aggressive
Cook saw enough in Broad's efforts - particularly when bowling to match-winning centurion Dinesh Chandimal - to keep the faith.
"In a couple of overs when he was bowling aggressively at the guy who got a hundred, he hit the gloves and got the ball to bounce up," Cook said.
"He had a short-leg in, and they just kept avoiding him.
"At the moment it's not quite going for Broady, a bit like the Test matches.
"But this is what cricket does, and if he gets five-for next time on his home ground it will be welcome."
As for Broad's financial penalty from International Cricket Council match referee Alan Hurst in Leeds, it seems bowler and captain have accepted he was at fault for apparently swearing at umpire Billy Bowden over a not-out lbw decision.
"He overstepped the mark," said Cook.
"But when he bowled aggressively he made it uncomfortable - that's what Stuart does well.
"Broady's always played that way. That's part of what's made him get so far in the game so quickly.
"Occasionally he has overstepped the mark. But when you're wrong you're wrong, you put your hands up - and he admitted that."
Accumulators
Broad's lack of wickets is not England's only concern after a second comprehensive defeat in succession saw them slip 2-1 behind in the NatWest Series and needing to win the last two matches to take the series.
Their critics also point to natural accumulators Cook and Jonathan Trott's problematic co-existence at numbers one and three in a limited-overs batting line-up - while there is also the question of whether an extra spin option may serve them better in a bowling attack that has appeared one-dimensional at times.
"We're going to review this game, like we always do, and we'll try to pick the best side to win the game," said Cook.
"If it's going to fly through we want four quicks. We're happy with that, but we can change that side."