T20 options excite Broad
England Twenty20 captain Stuart Broad thinks several exciting players should be able to show their potential against Pakistan.
Last Updated: 23/02/12 12:14pm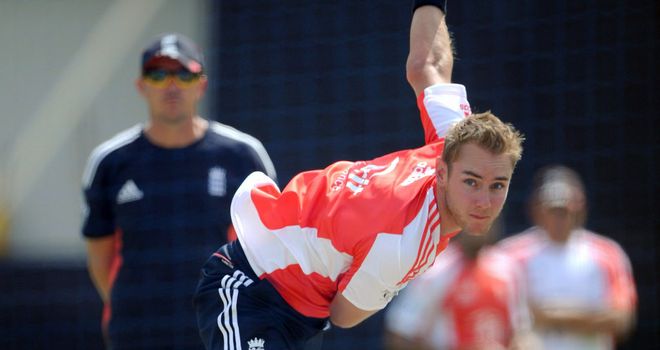 Twenty20 captain Stuart Broad believes a number of exciting players should be able to show their potential when England take on Pakistan in Dubai on Thursday.
Broad takes over the reins from one-day international leader Alastair Cook for three T20s against Pakistan, who were whitewashed 4-0 in the 50-over series after themselves winning the Test series 3-0.
Cook scored two centuries during the ODI series - a run of form that has seen him retained as cover, with Ravi Bopara suffering from a back injury but being able to take full part in practice on Wednesday.
England must now decide whether to give the in-form Cook, whose last T20 cap was earned in 2009, a chance to prove whether he can adapt his style effectively to the demands of the 20-over game.
Quality
"Cooky is keen to play Twenty20 cricket. He's made that pretty obvious," said Broad.
"He's been kept on in the squad, because obviously we've got some injury concerns - and you can't go into a series with only one spare batsman, because if someone breaks a finger in the nets you look a bit silly.
"So it was very easy for Cooky to stay on for an extra three or four days to cover the squad, and we can obviously have a look at him in the Twenty20 format.
"He's keen to play - as you'd expect everyone here on this tour would be."
But whoever plays at the Dubai International Cricket Stadium, Broad is confident that his team have the potential to produce fireworks.
"I look through the squad, and it excites me," the 25-year-old all-rounder said.
"Of the guys who've come into the side in recent times, Jos Buttler's won game after game for Somerset; (Jonny) Bairstow strikes the ball beautifully, as we've seen on the international stage; Jade Dernbach's got a brilliant yorker and a great slower ball.
Trust
"We've got guys coming into the Twenty20 team and offering a huge amount."
Broad has just seven fixtures to try to fine-tune England's resources between now and the warm-up matches in Sri Lanka next September, when they will defend their ICC World Twenty20 crown.
He is back as captain after missing England's last three T20s because of a shoulder injury and is pleased to see Nottinghamshire team-mate Samit Patel, who has been a limited-overs ever-present for England this winter, fitting into the set-up so well.
He added: "Samit has shown good form on this one-day tour, both with bat and ball. It's exciting going on to the field, knowing you have that trust in your guys to perform.
"That's what it's about - and as long as players know their roles, and what's expected of them, they have enough talent to be able to produce that on the field."
England (from): SCJ Broad (Captain), C Kieswetter (wkt), AD Hales, KP Pietersen, EJG Morgan, RS Bopara, JC Buttler, SR Patel, TT Bresnan, GP Swann, ST Finn, JW Dernbach, AN Cook, JM Bairstow, DR Briggs, JM Anderson.