New Zealand opener Hamish Rutherford cannot wait for chance to shine at Lord's
Hamish Rutherford cannot wait for a chance to play at Lord's after impressing against the England Lions in Leicester.
Last Updated: 09/05/13 7:26pm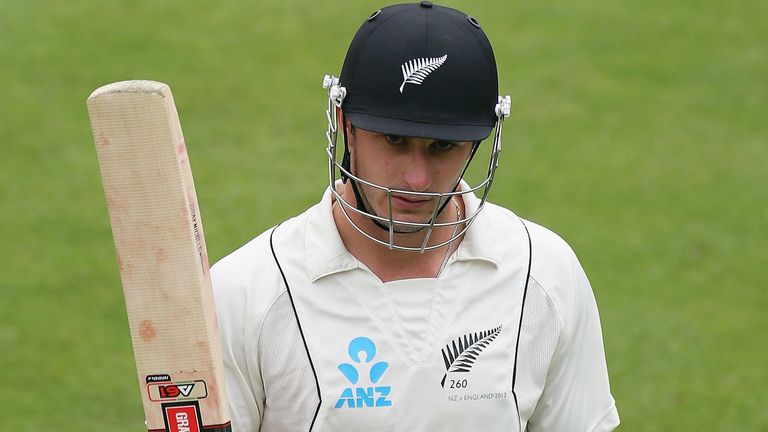 Rutherford continued his rapid start as an international batsman with a superb 116 not out at Grace Road, hitting England's second-string bowling attack all over the ground in an innings that included 16 fours and four sixes.
The left-hander was one of the stars of the Black Caps' home series with England, which ended 0-0 after three rain-affected draws, and he overcame the cold conditions at the start of an English summer with aplomb, being particularly hard on leg-spinner Steve Kerrigan who was taken out of the attack after three overs.
"Lord's will be huge, very special, but I'm going to try not to get too wound up in all of that - or else I'll forget to watch the ball," said Rutherford.
"I actually thought that at one point - it doesn't really matter scoring them in warm-up games, it matters in proper games.
"But I haven't batted a lot out here, so to spend some time out in the middle in these sorts of conditions was massive.
"I was maybe a little bit naive last week, but I really tried to work hard coming into this game.
"It's a good attack. The pitch was a little bit green and did a little bit...they're all very good bowlers, and there were a few jaffas floating around."
Toby Roland-Jones was the most successful Lions bowler, taking two wickets as New Zealand reached 184-3 on a rain-curtailed day, but he admitted to struggling to cope with the flashy Rutherford.
"I suppose we found him quite tricky to bowl at," said the Middlesex seamer. "He manufactures width pretty well, as he showed throughout his innings, and he's pretty aggressive with it as well.
"We certainly tried to straighten up on him, and maybe just restrict his flow of boundaries as much as anything. But I certainly felt that, as the day wore on, we were probably a bit better at that and learned a bit more about him."