Ashes: Mickey Arthur had 'no option' but legal action
Mickey Arthur says he had 'no option' but to take legal action against Cricket Australia over his recent sacking.
Last Updated: 21/07/13 7:20pm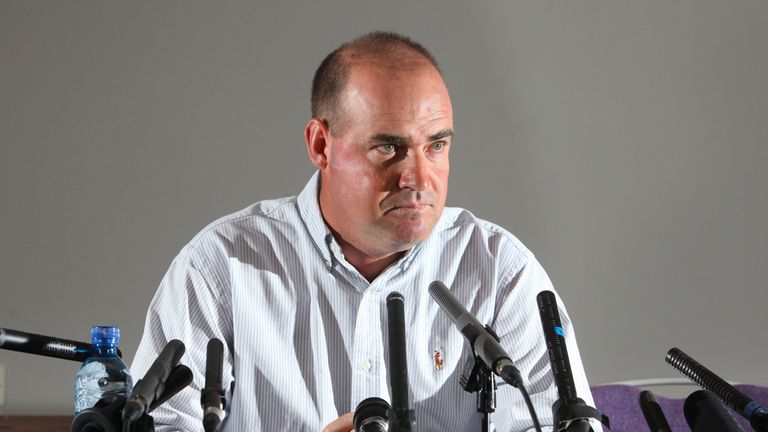 Arthur was sacked last month and replaced by Darren Lehmann around two weeks before the start of this summer's Ashes series.
The tour got off on the wrong foot when opener David Warner was suspended for landing a punch on England batsman Joe Root in a Birmingham bar following their Champions Trophy encounter.
The Aussies, who were defending their Champions Trophy title, were eliminated at the group stage after which Arthur was relieved of his duties.
To make matters worse, two days before the start of the Lord's Test a number of legal documents were leaked that showed that Arthur felt he was the victim of racial discrimination against him by his ex-employers and that captain Michael Clarke and senior all-rounder Shane Watson were at loggerheads.
Arthur said in a statement: "I was truly shocked and devastated by my dismissal.
"I had received a positive appraisal on all my key performance indicators just prior to departing for the Champions Trophy.
"I am told that David Warner's conduct was the last straw for the board. I received no hearing at all over that issue, and no one was doing more to improve discipline in this young Australian cricket team than I was.
"In spite what has been a deliberate campaign against me in the past days, I am still willing to resolve this dispute on a fair and just basis."
'Selective leaks'
As for the publication of last week's leaked documents, he added: "It's very unfortunate that my private dispute with Cricket Australia was made public by others.
"Due to the sensitive matters involved, I have taken extensive steps in co-operation with the Fair Workers Commission to keep my case entirely confidential.
"Selective leaks by others have ruined my attempts to protect the Australian cricket team and everyone involved.
"After my dismissal, I received nothing in writing from Cricket Australia. No contact and no payment at all, even on my basic leave pay, until I was forced to bring in lawyers to assist in the process.
"I tried on a number of occasions to make direct contact with Cricket Australia at a very senior level for days but I didn't get a response.
"I thought, perhaps naively, that under all the circumstances of my dismissal,
Cricket Australia would be willing to have sensible and good-faith talks in private. Sadly this hasn't happened, and here we are today."
And the 45-year-old added: "I never wanted to launch legal action but Cricket Australia simply left me no option.
"I find it's a totally unfair basis to end my career. The damage to my reputation and career has been immense, which means the chances of me getting a senior job are that much less.
"I do hope that the conciliation talks at the Fair Work Commission on Wednesday will be productive and I will certainly be doing my part."
Cricket Australia responded by saying in a statement: "CA stands by its earlier statements on this matter and disputes a number of claims made by Mickey Arthur today.
"We will not be articulating these disputes publicly except to say that we are confident in our legal position, are comfortable with the level of support provided to Mickey and look forward to resolving this matter in an appropriate manner."