Ashes: Steve Waugh says David Warner 'crossed the line'
Former Australia Test captain Steve Waugh says David Warner's comments about Jonathan Trott were "out of order".
Last Updated: 29/11/13 7:38am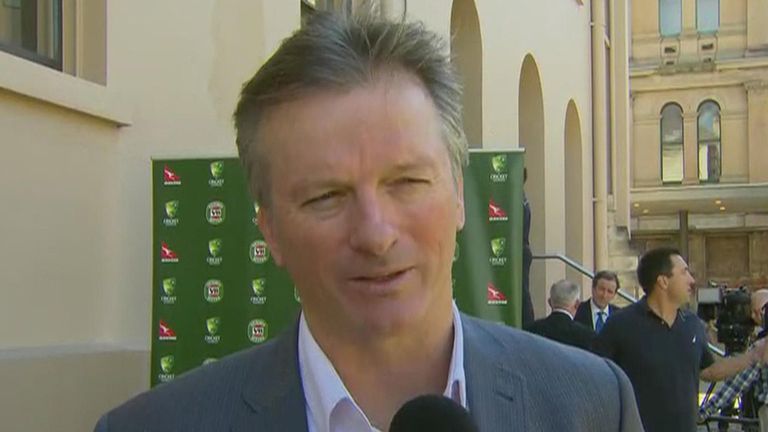 Trott made a shock departure from the Ashes tour earlier this week because of a stress-related illness.
Australia batsman Warner attracted criticism for comments he made during the first Brisbane Test in which he described Trott as "poor and weak".
Trott had a torrid time playing Australia fast bowler Mitchell Johnson and was dismissed for 10 and nine in the first Test, but England's management later made clear his illness was a long-standing one.
Waugh, regarded as one of the toughest opponents in cricket in his playing days, believes Warner overstepped the mark.
"I think Dave Warner's comments were out of order. I don't believe you should comment on someone else personally on the opposition," Waugh said on the Sydney Cricket and Sports Ground Trust website.
Fear
"He can make a generic comment, but I think when you get personal like that, you cross the line on how players treat each other, and the respect they should have.
"So I didn't agree with Dave's comments, having said that, he probably did smell a bit of fear in the England opposition players.
"Unfortunately for Jonathan Trott, it was a personal issue, and you don't want to keep going on about that.
"You just want him to get better and get well. So I think that hopefully has been put behind in that last Test match, and won't be brought up again."
Waugh added that Australia should now be concentrating on batting and bowling, rather than 'sledging'.
"They're playing well, so they don't need to do so much talking out there now," he said.
The Ashes series resumes in the second Test, beginning in Adelaide next Thursday.
The second Test in Adelaide will be shown live on Sky Sports 2 HD from December 5.