Ashes: Peter Siddle claims Australia will be unchanged for Adelaide Test
Fast bowler Peter Siddle expects Australia to name an unchanged team for the second Ashes Test in Adelaide.
Last Updated: 29/11/13 3:59pm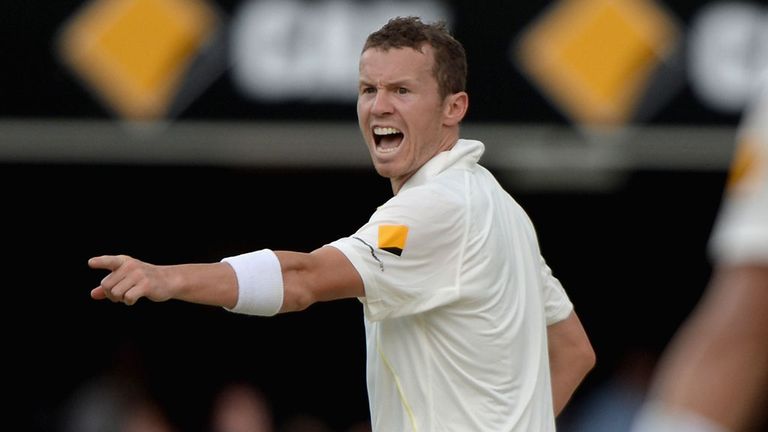 The hosts cruised to an easy victory in the first Test at Brisbane and Siddle revealed that coach Darren Lehmann has already hinted that the same XI will take the field at Adelaide.
"He spoke about keeping the same side out there and keeping the same bowlers. He's the one who makes the decision at the end of the day. I don't think there are going to be much (in the way of) changes," Siddle said.
And Siddle expects the nature of the Adelaide pitch - usually a batsman's paradise - will make it a tough five days for the bowlers.
"Adelaide is always tough," he said. "That's the job of playing Test matches there.
Challenge
"They usually go to late in the fifth day to get a result. It's always a nice challenge, and a nice ground to play on.
"It's a beautiful place to play. All we are hoping for is a good tough contest.
Jonathan Trott's departure from the Ashes series with a stress-related illness leaves England with an unfamiliar top six in Adelaide.
Opener Michael Carberry has played in just two Test matches for England, and one from Gary Ballance, Ben Stokes - both uncapped - and Jonathan Bairstow will come into the XI for Adelaide to replace the experienced Trott.
Siddle says the new man - whoever it is - will not be specifically 'targeted' by the Aussies.
"It doesn't matter who plays, whether it's Stokes, Bairstow... We are going to target any of them," he said.
"We need 10 wickets. There is no individual we want to pinpoint. It doesn't matter who they bring in, we won't be worried."
But Siddle says the Australians are in no doubt who England's key men are.
"I think the biggest danger is Alastair Cook at the top and Kevin Pietersen," he said.
Targeted
"They're the two we've probably targeted the most in the last couple of series and sort of got on top of.
"That'll be no different here. We've just got to try to keep working them over, keep the pressure on them, keep building, hopefully keep the success going."
Siddle also gave short shrift to the idea of Trott being a taboo topic, suggesting anything was fair game in the heat of battle.
"It's a battle out on the field and we'll go about it how we think it will work," Siddle said.
"We'll just keep playing hard cricket. We'll keep putting the pressure on them. We'll keep going from there.
"It's disappointing for him to be going home, I wish him all the best, but we're going out there trying to win Test matches and however we do that we'll play hard, aggressive cricket and hopefully get the win at the end of the day."
Meanwhile Australia paceman James Pattinson will make a tentative return to competitive cricket when he lines up for Melbourne club Dandenong this weekend, raising his hopes of taking part in the Ashes after being sidelined with a back injury.
"We can confirm he is returning as a batsman only at this stage. He has a carefully mapped out return for the month of December and we can reassess after that period," Pat Howard, Cricket Australia's high performance manager, said.
The 23-year-old suffered a stress fracture in his back that ruled him out of most of the summer Ashes series but has targeted being fit for the third Test in Perth starting December 13.
The second Test in Adelaide will be shown live on Sky Sports 2 HD from December 5.