Fifth Ashes Test: Mitchell Johnson looks ahead to more of the same at SCG
Mitchell Johnson insists Australia are 'very pumped and very motivated' as they bid for a 5-0 Ashes whitewash.
Last Updated: 01/01/14 10:44am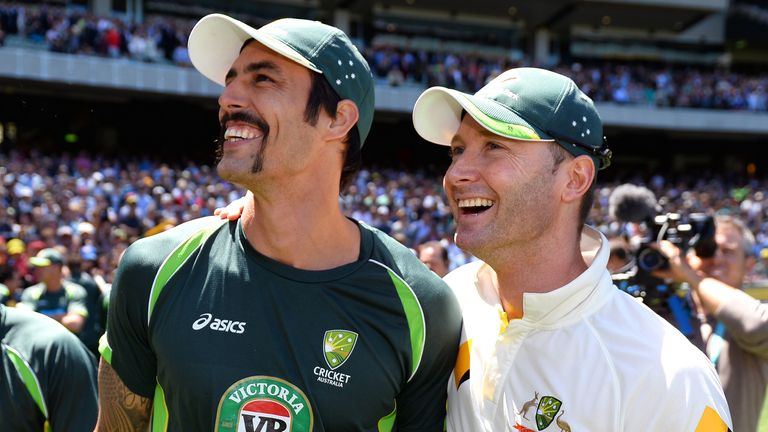 The tourists are close to disarray after losing the first four Tests - in stark contrast to England's 3-0 Ashes win on home soil just six months ago.
Paceman Johnson has dominated the series with 31 wickets already and is keen to inflict more misery on England at the SCG.
"Definitely there was talk at the start in England's Ashes series over there that it was going to be 5-0 the other way - so we're very pumped, very motivated," said Johnson. "We're really keen, we're all striving to go 5-0 here."
Australia have dominated all but day one of the opening Test and then the first innings of the fourth - and the way they fought back to trounce England in Melbourne last week is symptomatic, according to Johnson, of their vast improvement in a short space of time.
"Alastair Cook and (Michael) Carberry came out, and they were basically none for 100 in that second innings," he added. "In the past we would have definitely rolled over and lost that match.
Start from scratch
"We know we've got to do all the hard work still, start from scratch - so I guess we're going to play this as a final."
There will be no backward step either, if he suspects Kevin Pietersen - or any other England batsman - is trying to slow-time him out in the middle.
That was Johnson's conclusion when he was made to wait several times at the MCG while Pietersen attended to litter strewn across the square and other apparent distractions.
The fast bowler eventually snapped, throwing the ball in Pietersen's general direction - but not threateningly close - after he had to pull out as he neared his delivery stride.
It transpired a small child was crawling in front of the sightscreen on that occasion.
Even so, Johnson will be sticking to his guns. "The only thing I regret is throwing the ball," he said. "I think that was probably a little bit inappropriate, but the rest of it was fine.
"I just let him know that he needed to stop doing it. The sightscreens are big enough - he should be watching the game. I won't back down if it happens again."
You can watch the fifth and final Ashes Test live on Sky Sports 2HD from 10.30pm on Thursday January 2