Ashes 2013/14: What the Australian papers are saying about the series
A round-up of what the Australian media has to say on the Ashes ahead of the final Test in Sydney.
Last Updated: 03/01/14 6:36am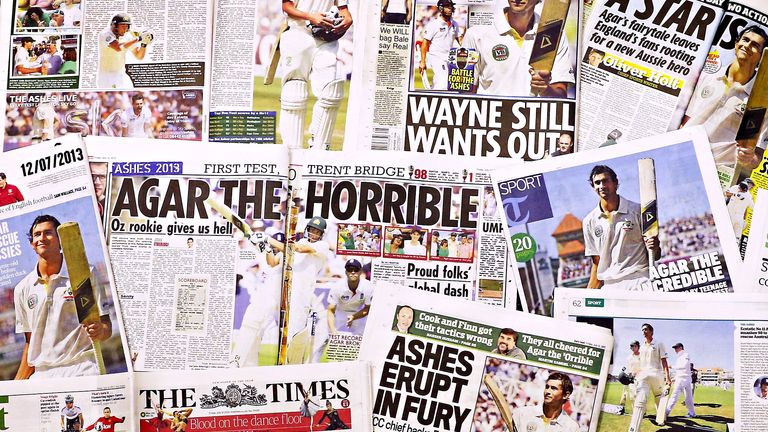 SYDNEY MORNING HERALD
MICHAEL Clarke says it would be 'extremely romantic' if Australia was to field the same line-up from start to finish of an unforgettable Ashes campaign.
ENGLAND is tipped to field the most debutants in an Ashes Test in more than 20 years as beleaguered captain Alastair Cook vowed he would continue to do things his way despite calls mounting for him to change.
DON Argus, chairman of Cricket Australia's Team Performance Review, will not be prepared to call his review a success until Australia is ranked No 1 in all three formats, and has singled out succession planning as ''the big issue'' confronting the triumphant Ashes team.
ENGLAND risks damaging another young spinner if it promotes untried leg-spinner Scott Borthwick for the Ashes-ending Test in Sydney, former Australia wicketkeeper Ian Healy believes.
WITH a wobbly wheel, busted axle and a strange clunking noise that you don't want to ask about, the circus rolls into Sydney. This is the 10th Test match in these supersized Ashes, and it feels very much like the end of the road. Graeme Swann didn't make it, nor Jonathan Trott, nor Australia's new generation of fast bowlers.
NATHAN Lyon is tracking to become Australia's greatest wicket-taking off-spinner, former Test all-rounder Greg Matthews claiming he has the potential to reach 400.
DEPOSED Australia wicketkeeper Matthew Wade has been endorsed to reclaim that role if, as expected, Brad Haddin is rested during the limited-overs series against England.
HERALD SUN
THE "romance" of trouncing England with an unchanged team is in danger - James Faulkner set to replace George Bailey.
THE last of England's best laid plans are about to be shredded, with up to three debutants a chance to play the fifth Test.
DAVID Warner reflects on a childhood of hard knocks, and how it moulded him into a man with the determination to succeed.
MICHAEL Clarke has backed Matt Prior as a quality cricketer and believes England missed his experience in Melbourne.
AUSTRALIA coach Darren Lehmann has one resolution for 2014; "I want Australia to become a winning side away from home".
THE AUSTRALIAN
NOT even rumours of Brad Haddin's retirement can shake the Australian's resolve to make it a clean sweep in Sydney.
ALASTAIR COOK has put Shane Warne back in his box, and the England skipper cares little if some are calling for his head.
JAMES Faulkner's odds of playing in the final Ashes Test have shortened, with a seam-friendly SCG pitch favouring his selection.
IN triumph, Michael Clarke will display all the lashings of grace and goodwill that nobody gave a stuff about when he was in despair.
BATTING coach Michael Di Venuto says the paradox of a scratchy Chris Rogers making 116 bodes well for in-form George Bailey in Sydney.
THE SCG is the cricketing equivalent of the elephants' graveyard, where giants of the game come to lay their careers to rest.
THE WEST AUSTRALIAN
RIVAL Ashes captains Michael Clarke and Alastair Cook say the bad blood which has affected this series won't boil over at the SCG.
MICHAEL Clarke says conditions rather than romanticism will determine Australia's side for the fifth Test in Sydney.
TEST captain Michael Clarke and champion fast bowler Glenn McGrath say that winning can hide serious cracks in a team.
ENGLAND are set to shake-up their side once again for the SCG Test, however a return for fallen keeper Matt Prior isn't on the cards.
AUSTRALIAN legend Doug Walters says the current Ashes has surpassed the great 2006-7 whitewash.
HE denies it now, but three years ago Michael Clarke was booed onto the SCG. He's unlikely to be met with the same reception for the fifth Ashes Test.