Ashes series: Steve Harmison backs Alastair Cook and Andy Flower
Steve Harmison believes both Alastair Cook and Andy Flower should remain in their jobs after the Ashes series.
Last Updated: 03/01/14 6:37am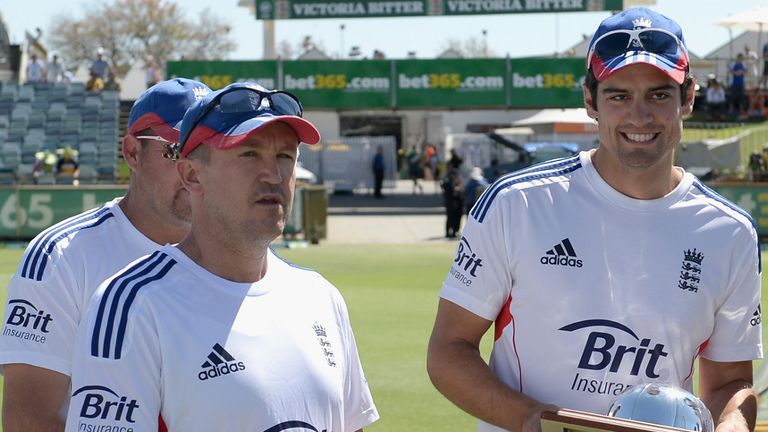 England captain Cook and coach Flower are under pressure after the tourists lost the opening four matches of the series to Australia, leaving only pride to play for in the fifth and final Test which starts in Sydney on Friday.
Harmison expects Cook to be retained as skipper and he also wants Flower to stay on, although he feels a change of coach could be on the horizon.
Harmison told Sky Sports News: "I don't think there is anybody that can captain England other than Alastair Cook at this minute in time. He has just won captain of the year for the last calendar year and he is not a bad captain.
"It's the first time for the last four or five years that an England captain hasn't had a slow bowler to control the game and I think that's where Alastair Cook has come up a bit short in this series.
"He has maybe struggled because he has not been in this position before and had to look at just two bowlers doing the job for him.
"Every time Alastair Cook threw the ball to Graeme Swann or Jimmy Anderson the Aussies had their number and all of a sudden he has got to think of something else and does he trust his other bowlers?
"For me Alastair Cook will still be captain and I hope Andy Flower will still be coach because I have got a lot of respect for Andy and I think what he has done for English cricket has been great.
"But I sense that he might not carry on after this series and I think that will be Andy's doing.
"I hope he does but I sense that they might be moving forward in a different direction. I just hope if he does go that people will give him credit for what he has done to this England team since he took over."
England made three changes for the Sydney Test with Scott Borthwick, Gary Ballance and Boyd Rankin coming in for Monty Panesar, Joe Root and Tim Bresnan and Harmison has backed the decision.
He added: "At 4-0 there is no danger in it. It can only benefit to freshen and change.
"The three characters that are going in - I know two of them in Borthwick and Ballance and they are both larger than life characters who have got the right temperament to enjoy international cricket. And to be fair what have England got to lose?
"It will be a baptism of fire but I am sure they will go and enjoy it and go an express themselves as much as they can in what is a very tough environment. Ben Stokes and Joe Root have proved they can play at international level and hopefully these three can do the same if they are selected."
Watch the fifth Test between England and Australia on Sky Sports 2 on Thursday evening, with coverage from 10.30pm.