Ashes: Shane Watson credits Darren Lehmann for 'special' victory
Australia all-rounder Shane Watson says coach Darren Lehmann should take huge credit for their Ashes triumph.
Last Updated: 06/01/14 12:39pm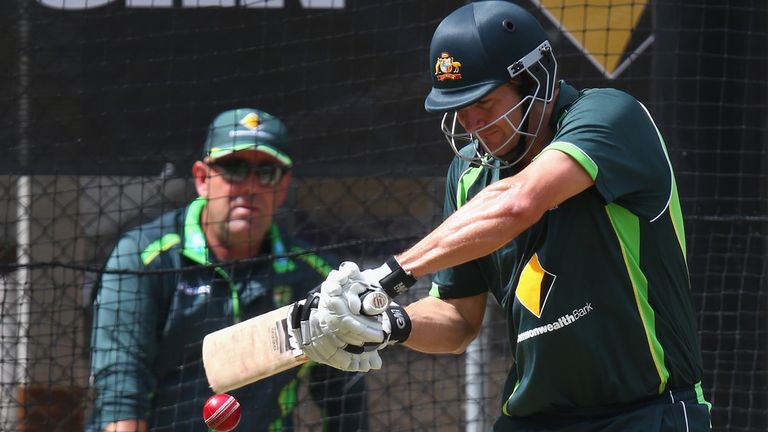 Lehmann replaced Mickey Arthur as coach before the summer Ashes series, too late to make a big impact as England won 3-0.
But Watson says Lehmann's influence was vital to his own form and the rest of the team as they turned things around spectacularly in Australia, hammering England 5-0.
With 51 Tests under his belt dating back to January 2005, Watson, 32, is one of Australia's longest-serving players.
He had major disagreements with Arthur but under Lehmann, he believes he has found his niche at last, working under a coach who created the right environment.
"There's absolutely no comparison. This is the time of my life," said Watson, a day on from the 281-run trouncing of England at the SCG which completed Australia's clean sweep.
"I know how lucky I am to be involved in such a special environment because it doesn't always come along.
"It is great to share this with all the guys after what we have been through, all the ups and downs.
"Everyone (in the side) knows what we've been through as we have had the same team for the whole series. Everybody put their hands up when we needed it and that really is a sign of a very good team. We are not relying on one person.
"We had some very special performances, with Mitch Johnson and Brad Haddin especially."
"I'd always had certain beliefs and I'd been lucky to be around so many great teams to know most importantly that you need to be making sure you're having a lot of fun.
"It's a game that if you take too seriously - and I do at times - you can really get too internal, and the game gets too much for you.
"I knew that's what was happening within the Australian team - and like I say, Darren Lehmann comes in and within one day turns that all around."
The culmination of that well-being is to be part of a team which has just dealt out only the third 5-0 whitewash in Ashes history.
Spinner Nathan Lyon agrees that Lehmann's influence was critical.
"Credit to Darren (Lehmann), he has instilled a family feel. We are all in it together and we really enjoy each other's company," he said.
"There's no down times really, we are all up at the moment. It's an unbelievable feeling. It's the best team I have ever been a part of."
Watson revealed there was little socialising with the England team off the pitch through the series.
"We don't really get to socialise with the English players and there is a reason for that, because it means so much to be able to beat them," he said. "The only way we get to know the English is on the field and that is when you are at your competitive best.
"Like us, they are trying to do whatever they can for their country. We don't have any legends like the 06/07 team so for us to come together as we have done makes it even more special."