England v Sri Lanka: Ian Bell admits hosts should have done better on day four at Headingley
Last Updated: 24/06/14 6:22am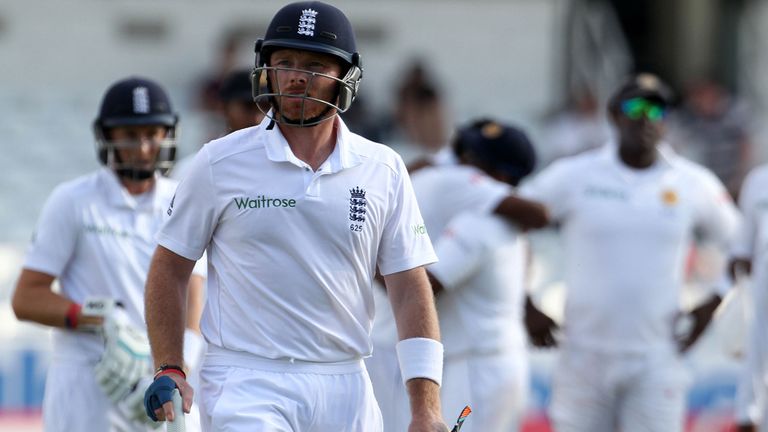 Ian Bell described England's performance on day four as "desperately disappointing" after Sri Lanka took a big step towards victory in the second Test at Headingley.
The hosts stand on the brink of series defeat as they slumped to 57-5 in pursuit of a national record total of 360 in Leeds.
After dominating the first two days, England allowed Sri Lanka to rack up a second-innings total of 457 thanks to Angelo Mathews' 160 and stout resistance from the tail.
That had already put England on the back foot but their situation went from bad to almost hopeless when a string of wickets fell before the close.
"Ideally we would like to be one or none down and it's a desperately disappointing day. It was a really poor one," Bell told Sky Sports 2.
"From the position we were in - we were outstanding for the first two days - we should be better.
"We had chances to stretch the lead and in Test cricket, when you play against quality teams, if you don't bury them they come back at you and they showed us how to keep you down.
"They bowled really well but there are no excuses".
Lead
England led by 108 at the end of each side's first innings and had Sri Lanka on 277-7 in the second before letting their control slip away.
Bell added: "It's absolutely gutting. We had an opportunity with the bat to bury them in the first innings. We didn't take it, and I think they showed what good teams do - when people are down, you have to keep them down.
"They came back hard at us, and what they did tonight is exactly what we've done to teams in the past. They've been outstanding today, but we've been really disappointing.
"We've been outplayed. They recognised today was a massive day, and they've 'won' it."
Sri Lanka's late surge was built on Mathews' brilliant knock before Dhammika Prasad's took 4-15 in a brilliant spell before stumps.
"After the first couple of days we never thought we would be in this position," Mathews said.
"I was just trying to be positive. We look to score runs. We had to counter attack and whenever we got loose balls, we wanted to score. We stayed positive.
"It will be a positive tour for us if we can win but the job is only half done. We need to take five wickets and will stick to our basics."