ICC urges Alastair Cook and MS Dhoni urged to keep quiet over Trent Bridge row
Last Updated: 27/07/14 2:55pm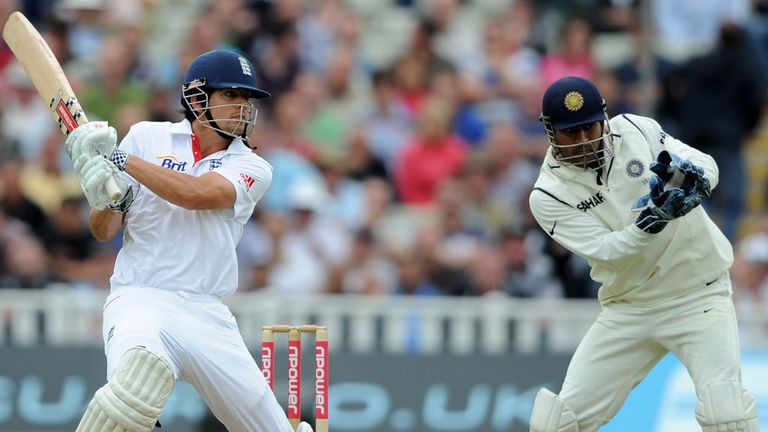 Alastair Cook and Mahendra Singh Dhoni have been asked to stop making any further public comment about the row involving James Anderson and Ravindra Jadeja until the case has been fully heard.
The ICC is unhappy that both the England and India captains have spoken out in recent days and urged "all relevant parties ... respect the judicial process" on Sunday.
Jadeja has already been fined half his match fee for his part in the reported fracas in the Trent Bridge pavilion stairwell during the first Test, while Anderson will answer a Level Three charge at a full hearing before judicial commissioner Gordon Lewis on Friday and could face a four-Test ban if he is found guilty.
Cook described the matter as a "mountain out of a molehill" on the eve of the second Test at Lord's, before Dhoni divulged some of his eye-witness evidence ahead of the third Test in Southampton this week. 
And the world governing body responded with a press release which read: "The ICC today urged all relevant parties to respect the judicial process in relation to the alleged incident that took place during the first Test at Trent Bridge, which has resulted in charges being brought against England's James Anderson and India's Ravindra Jadeja."
ICC chief executive David Richardson said: "England captain Alastair Cook and, more recently, India captain Mahendra Singh Dhoni have made public comments relating to the alleged incident that took place during the first Test at Trent Bridge, the latter of which is critical of and undermines the ICC disciplinary process.
Respect
"The ICC would also like to reiterate its full support of the process followed and respect for the decision made by (match referee) David Boon.
"ICC code of conduct hearings of this nature are, generally speaking, difficult processes to work through - with detailed legal submissions, witness statements and oral witness testimony.
"We are satisfied that Mr Boon carefully and comprehensively considered the evidence and submissions presented to him at the hearing, which included conflicting evidence from both sides, prior to making his decision.
"In legal matters such as this, the ICC takes extremely seriously its duty as administrators of the game.
"Therefore, I request all stakeholders to respect the process which remains ongoing and remind them of their duties to the integrity of the process and the sport so that we can focus on the game of cricket itself."