Johnston pleads for reversal
Trent Johnston has urged the ICC's executive board to give associate nations "a fair chance" at qualifying for the 2015 World Cup.
Last Updated: 20/04/11 8:01am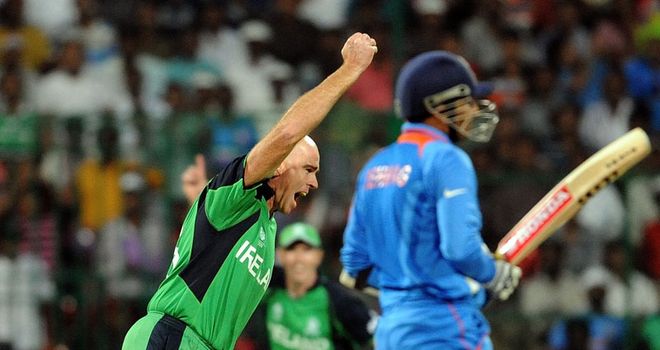 Former Ireland captain Trent Johnston has urged the International Cricket Council's executive board to give associate nations "a fair chance" at qualifying for the 2015 World Cup.
The Irish were handed an unexpected lifeline on Tuesday when ICC president Sharad Pawar asked the board to reconsider their decision to restrict the next World Cup to the 10 full members.
Johnston, who along with current skipper William Porterfield has been one of the most vocal critics of the decision, believes Pawar has given an important opportunity to right a wrong.
"If they're having a look at the decision again, that is a very positive thing for Ireland and the other associates and affiliates, we're obviously hoping something comes of this," he said.
"I don't think we would have sat back and taken that decision because we found it unfair. We never thought we should automatically qualify but a qualifying tournament was all we were looking for, a fair chance. Now, with this turnaround, we hope that will be the case.
Fears
"If they do reverse their decision, then fantastic. That's what Cricket Ireland and 94 other countries want."
Johnston, 36, was a key figure in Ireland's impressive showings in the 2007 and 2011 World Cups.
With his wily medium-pace and useful hitting down the order, the veteran helped his nation to famous victories over Pakistan and England.
And he fears for the future of cricket in Ireland if the door is not reopened to the so-called 'minnows'.
"It's a massive deal, it's massive for the sponsorship and revenue we need to develop the game and also massive to keep kids interested in the game," he said.
"It's about the next generation, not just about 2015. We're building to 2019, 2023 even. If we don't have a World Cup to offer kids - the 15, 16-year-olds - are they still going to want to play cricket?
"If we have a World Cup to aspire to that can only attract more kids and the profile can only be raised.
"The memories we have had of the last two World Cups are unbelievable and to not give that chance to young Irish cricketers, young Canadian cricketers, young Dutch cricketers would be a disgrace."