Porterfield - We can win
Ireland captain William Porterfield is confident that his side can produce a shock in their World Twenty20 opener against Australia.
Last Updated: 19/09/12 1:57pm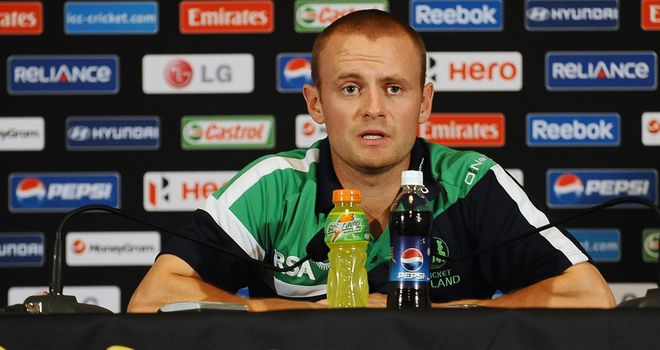 Ireland captain William Porterfield is confident that his side have the capability of producing a shock in their ICC World Twenty20 opener against Australia.
Australia lost to England by nine runs in their warm-up game while Ireland triumphed over Bangladesh by five runs ahead of the Group B clash in Colombo on Wednesday.
And opening batsman Porterfield believes the contest is the perfect opportunity for Ireland to further enhance their growing reputation in international cricket.
"Irish cricket has been evolving for the past number of years and in the last five years we have been growing," he said.
"We want to get wins more regularly and this tournament is no different and that starts tomorrow (Wednesday).
"We think we've got as good a chance as any (against Australia). We're coming up against a team that is going through a bit of transition themselves but they're a good team. We're not taking them lightly at all.
"They have a lot of lads who are game-changers especially in this format of the game, but the way we've been playing, we've prepared for this tournament and we're confident in what we can do and we're just looking after our game really."
Quality
Despite Australia's defeat at the hands of defending champions England, Porterfield knows Ireland will face a side packed with quality.
He added: "They won in their last game (before England) against Pakistan so they cannot be taken lightly. To do that against Pakistan, you've got a good team.
"A lot of their players and a lot of their coaches are involved the IPL so that will give them a lot of experience in Twenty20 cricket in their off-season."
Trent Johnston, Ireland's Australian-born all-rounder, insists there will be no split loyalties when he faces the country where he was raised.
"The guys have worked hard in the nets and on their fitness in the run-up to this tour so we like to think we're 100 per cent ready and raring to go for tomorrow," the 38-year-old said.
"We've got our plans for them but they've got quality players all the way through and we know we will have to be at our best if we are to cause an upset. We're very capable of doing that.
"I'm very much entrenched in Irish cricket and I love going out and playing for Ireland. This will be my fifth 'World Cup' for them and I'm very much looking forward to it. What better start than to beat the Aussies tomorrow."