A frustrating end
Ireland will be left with a sense of "what if" after their World Twenty20 exit, says Kyle McCallan.
Last Updated: 25/09/12 9:42am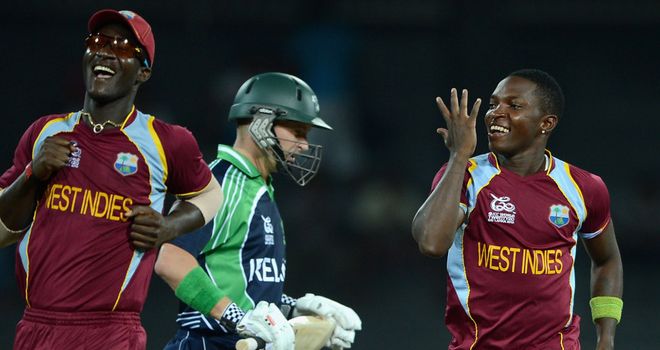 Former Ireland cricketer Kyle McCallan was left frustrated after watching the current side get knocked out of World Twenty20 due to an abandoned match against the West Indies.
Ireland needed a victory to progress to the Super Eights but Colombo rain ended the Group B fixture and their campaign.
The West Indies were clear favourites to win the game when the downpour intervened with Ireland on 129-6 after 19 overs, but McCallan said it was a disappointing way to exit the tournament and left a question of "what if?"
"It is a bit of Déjà vu. The same thing happened in the last tournament when we felt we had a chance of chasing 120 odd against England," he told Sky Sports.
"Whether or not 130 would have been a defendable total for us is a different matter but we will never know. It is so frustrating."
Ireland were heavily beaten in their opening ICC World Twenty20 clash but McCallan insists opponents are now treating the Irish team as more of a threat and as a consequence their performances should be placed in that context.
"The surprise factor has gone," he said. "I think Shane Watson commented after the Australia game that teams are very much prepared for a good game now and they know what they are going to get when the play against Ireland so they come very hard at us.
"That is a compliment to how far cricket Ireland has come. We are currently top of the World Cup qualifying for the next 50-over World Cup in Australia; we just have to make sure we are on that flight.
"We are a bit more than minnows now and what we are really craving is a greater slice of the financial pie that perhaps Zimbabwe and Bangladesh are getting and we are not.
"I would have been quite confident that we would give a greater return on the money than the other two countries are doing."
The West Indies progressed due to a better run rate after also losing to Australia in their opening match of the tournament.
They will now play England in their first Super Eights game on Thursday and Sky Sports' Rob Key believes they are real contenders for the title despite deficiencies in the bowling department.
"I am not sure that they are favourites as some people are touting," he told Sky Sports. "But their batting is obviously very strong and the question marks are over their bowling. I am still not sure they have their best bowling side out yet.
"Their batsmen pick themselves. They have a lot of part-time bowlers who can come in very handy and do a job.
"The leg spinner Samuel Badree, from Trinidad and Tobago, I think should come into their side."