Pakistan's Misbah-ul-Haq has promoted Ireland's claim for Test recognition
Misbah-ul-Haq boosted Ireland's claims for a Test spot after he praised their performance during Sunday's ODI in Dublin.
Last Updated: 27/05/13 3:15pm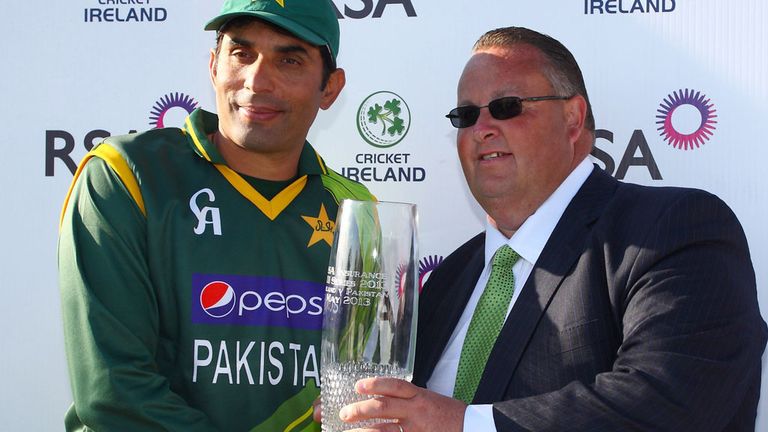 The Pakistan skipper described the Irish as 'a really mature side' after his own team had reached their target with eight balls to spare.
Batting first, Ireland posted 229-9 from their 50 overs, thanks largely to an unbeaten 116 by Ed Joyce before reducing Pakistan to 17-4 in 9.2 overs.
In the end, Ireland were denied a famous triumph as Kamran Akmal and Wahab Riaz, put on 93 from just 62 deliveries for the eighth wicket.
The first ODI in Dublin on Thursday had ended in a tie and asked whether he thought Ireland should be granted Test status, Misbah answered: "That's for the ICC but they are a better team now so the ICC should think about that.
"If you look at their batting line-up that is good enough to do well anywhere.
Mature
"They may struggle a little bit with their bowling line-up when they go out of Ireland but still they are a really mature side.
"And we were really struggling today for most of our innings."
Cricket Ireland's chief Warren Deutrom added: "It is something that we have aimed for by 2020.
"It is unrealistic in the short term but it is a realistic ambition.
"We are trying to address all of the rationale to be a full-member country. We have a strategic plan about where we are trying to go.
"We must show our aspiration to these players that we want to aspire to the pinnacle of the game which is Test cricket.
Replicate
"That is what players aspire to and we must replicate that and provide them with a pathway to show that is what we are trying to do.
"We have been at the top of the tree in the associate countries for five or six years now. We can't afford to just be happy with that and continue on.
"There is no point in us slapping each other on the back and turning the lights out and saying well done. We don't want to just be second best."
Ireland has a good record in 50-over games, and have already claimed the scalps of Pakistan and England in World Cup matches.
The introduction of a domestic professional league in Ireland would be the next step towards achieving Test status.