Disgraced stars behind bars
Salman Butt, Mohammad Asif and Mohammad Amir have all been given custodial sentences at Southwark Crown Court.
Last Updated: 03/11/11 5:03pm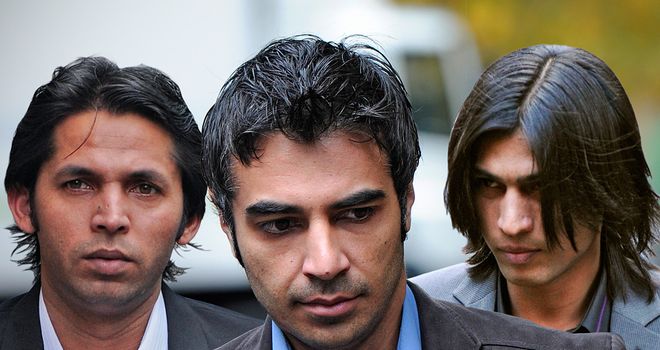 Former captain Salman Butt and fellow players Mohammad Asif and Mohammad Amir have all been given custodial sentences for plotting to fix parts of Pakistan's Lord's and Oval Test matches against England in 2010.
Butt, 27, was jailed for 30 months, Asif, 28, was given a 12-month term and teenager Amir, 19, was handed a six-month sentence for plotting to bowl deliberate no-balls against England.
Corrupt cricket agent Mazhar Majeed received the longest sentence and will spend two years and eight months behind bars.
Passing sentence, Mr Justice Cooke said the four men had damaged the image and integrity of cricket through their actions.
Heroes
He said they engaged in corruption in a game whose very name used to be associated with "fair dealing on the sporting field".
The judge told the court: "'It's not cricket' was an adage. It is the insidious effect of your actions on professional cricket and the followers of it that make the offences so serious.
"The image and integrity of what was once a game but is now a business is damaged in the eyes of all, including the many youngsters who regarded you as heroes and would have given their eye teeth to play at the levels and with the skills that you had."
The judge said future cricket matches would forever be tainted by the fixing scandal.
He said: "Now whenever people look back on a surprising event in a game or a surprising result, or whenever in the future there are surprising events or results, followers of the game who have paid good money to watch it live or watch it on television will be left to wonder whether there has been fixing and whether what they have been watching is a genuine contest between bat and ball.
Appeal
"What ought to be honest sporting competition may not be such at all."
Butt, Asif and Majeed are expected to begin their sentences at Wandsworth prison in south London.
Amir is due to be sent to Feltham young offenders' institute in west London after his barrister, Henry Blaxland QC, did not apply for bail.
Lawyers for Amir and Butt said they would appeal against the sentence