International Cricket Council suspends umpires as match-fixing probe continues
The International Cricket Council has suspended six umpires as the investigation into match-fixing continues.
Last Updated: 10/10/12 4:58pm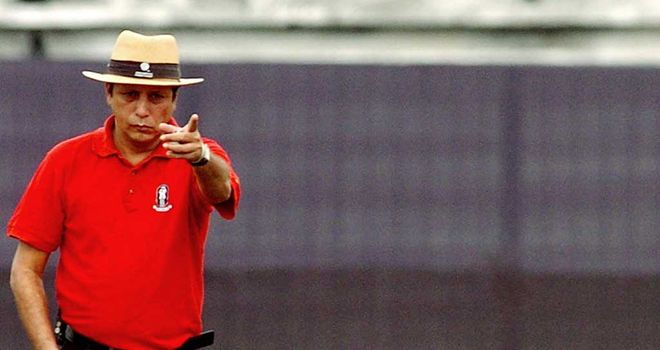 A programme broadcast by India TV involving reporters in a sting operation claimed the officials were willing to give decisions or provide inside information on the teams and playing conditions in return for illicit payments.
Although the ICC said none of the six officiated in any official matches during the World Twenty20, the programme said a warm-up match to the tournament which ended on Sunday in Sri Lanka is at the centre of the allegations.
Three of those named are from Sri Lanka, two are from Pakistan and the sixth is Bangladeshi Nadir Shah who is a member of the ICC's international panel.
The ICC launched an "urgent investigation" on Monday and has asked the TV station to hand over any evidence and documentation, adding it "reiterates its zero-tolerance toward corruption whether alleged against players or officials".
With the probe entering its third day, Shah said the allegations were "absolutely rubbish".
"These people are setting up these things," he told the BBC. "Telling whatever they feel like. Once we knew that these people are crooked we backed out.
"I didn't know it was a sting operation. Once I found out that these people are trying to fix matches I just backed out and left."
Sri Lankan official Maurice Zilva aded: "All I have to say is that we are innocent of all these charges."
India TV footage appeared to show Shah, who has stood in 40 ODIs and a number of Twenty20 internationals, say he was willing to give LBW decisions on demand.
The video does not show any cash being exchanged nor did the channel broadcast any proof of the umpires delivering decisions or information.
The programme said three of the umpires agreed to give favourable decisions, including in a warm-up match for the World Twenty20.
Another was filmed in the sting called "Operation World Cup" promising to "revolt" against Sri Lankan cricket, and the fifth official was willing to ensure decisions would be given in favour of India.