Dav Whatmore says Pakistan will take confidence from battling third day performance
Dav Whatmore said Pakistan would take confidence from their battling performance on the third day against South Africa.
Last Updated: 04/02/13 8:36am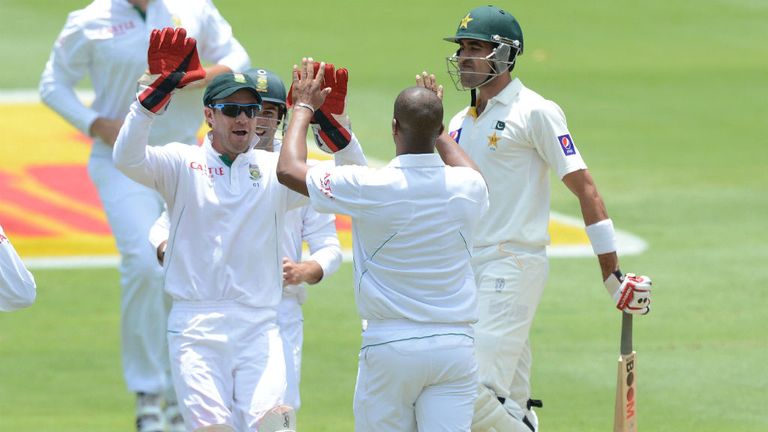 South Africa are heading for a big victory - Pakistan are still 297 runs away from making them bat again.
But after being skittled out for 49 on Saturday, Pakistan's lowest ever Test score, Whatmore said pride had been restored as they reached 183-4 in their second innings.
Whatmore said a combination of a flatter Wanderers pitch and improved application from his batsmen had resulted in a much-improved performance, captain Misbah-ul-Haq (44no) and Asad Shafiq (53no) adding an unbroken century stand for the fifth wicket.
"Whatever happens from here, today should give all the players confidence for the remaining two Test matches in Cape Town and Centurion," Whatmore said.
"I thought the wicket settled down a bit too and what we wanted to do today was show better application.
"We did that and the players will have learnt a lot from this experience. Nine of our 11 for this Test have never played in South Africa with the red ball and so it is a big learning curve."
Hot happy
Whatmore admitted though that he had a few words with debutant Nasir Jamshed after the opener fell attempting an ambitious pull shot having reached 46.
"He has been with our ODI team ever since I have been in charge and so you forget this is his Test debut. But I was not happy with him and told him so," he said.
South Africa should complete the formalities on Monday, though rain is forecast for the last two days.
Wicketkeeper AB de Villiers, who earlier hit his 15th Test century, says the new ball due five overs into the fourth day will be crucial.
"The wicket is playing better, the ball is not going around as much as it was on the first two days," he said. "But we have a new ball coming up tomorrow and we hope that will speed things up a bit.
"Pakistan will be looking to get through the new ball and then from 20-30 overs start to be positive again. We will be aware of that."