England, India and Australia gain ICC backing for their vision of the future of cricket
The ICC Board has given its backing to key changes to the "future structure, governance and financial models".
Last Updated: 28/01/14 6:57pm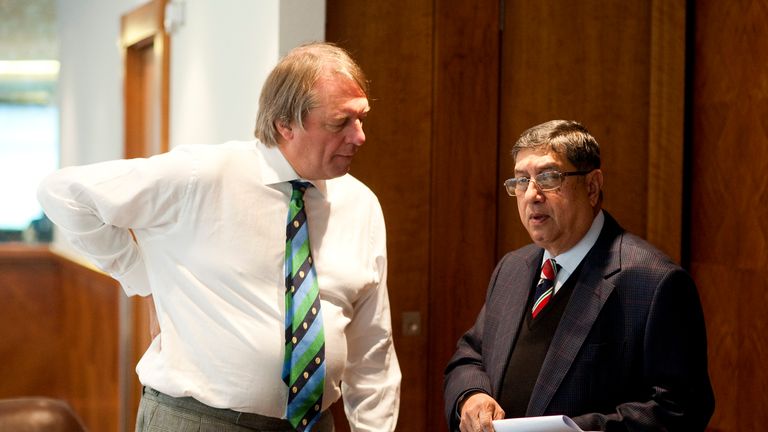 The powerful 16-man group met in Dubai on Tuesday to debate widely-leaked draft proposals made by an ICC sub-committee, which proposed a radical reshaping of the world game and increased power vested in the boards of England, India and Australia.
Some of those recommendations have been shunted aside or diluted but several central proposals look set to become a reality.
Among the plans to receive support at the meeting was the formation of a powerful five-man Executive Committee with three seats reserved for the England and Wales Cricket Board, Board of Control for Cricket in India and Cricket Australia.
The board also passed a death sentence on the World Test Championship, due to be held in England in 2017, in favour of a restored Champions Trophy.
The apparent end of the Test championship, a supposedly flagship event that had already lost its place in the calendar in 2013 due to limited support from broadcasters, is not the only change to the international fixture list.
The board has agreed to discontinue the current centralised Future Tours Programme - an egalitarian concept that tried, though often failed, to ensure all full member nations hosted and toured each other over an eight-year period.
Instead, a raft of bi-lateral agreements between nations will exist between 2015 and 2023, a period of time covering the next commercial rights cycle.
This idea was one of the most concerning to opponents of the draft, with speculation that less attractive teams such as Zimbabwe, Bangladesh and even New Zealand could find themselves starved of competitive cricket against the top sides.
The ECB and CA have already committed to a minimum number of fixtures against all other full members, though the BCCI's position is one of a number of questions which are yet to be answered.
A new meeting has been scheduled to take place in February while details are thrashed out behind the scenes.
'Meritocracy'
ICC president Alan Isaac said: "This is an important time for world cricket and it is extremely encouraging that the ICC Board has unanimously supported a set of far-reaching principles that will underpin the long-term prosperity of the global game.
"These principles emphasise the primacy of Test cricket and that for the first time in cricket's history participation will be based entirely on meritocracy, giving everyone powerful incentives to play better cricket and develop better cricketers.
"There is more work to be done by the members in developing their schedules of bilateral cricket while at the ICC we need to work through the detail of the manner in which these principles will be implemented.
"Extensive work will now be undertaken in advance of a follow-up board meeting next month."
The announcement of this follow-up meeting, as well as guarded wording such as "unanimous support", indicates that no formal vote was taken despite extensive debate behind closed doors.
Cricket South Africa has been a fervent objector since the 'position paper' was leaked, describing the proposals as "fundamentally flawed", while officials from Pakistan, Sri Lanka and Bangladesh had all been quoted as taking a dim view of certain aspects.
South Africa may have been partially appeased by an offer to include them in a planned 'Test Cricket Fund' from which they had previously been excluded.
The fund is supposed to support the longer format in territories where it struggles to sustain itself and all full members would now receive a share, barring the 'big three' behind the blueprint.
The notion of promotion and relegation between a streamlined group of eight Test nations and the lesser Intercontinental Cup was a large part of the position paper but featured altogether less prominently in the new communique.
Indeed, the assertion that "there will be an opportunity for all members to play all formats of cricket on merit, with participation based on meritocracy" is open to several interpretations.
Less ambiguous is the addition of the phrase "no immunity to any country", which refers directly to a divisive recommendation that England, India and Australia be exempt from relegation due to their financial importance.
BCCI position
The BCCI, which is eager to use any reorganisation to increase its share of revenue as the game's primary cash-generator, had reportedly threatened to break away from the ICC if no changes are made.
Therefore the ICC Board's "recognition of the need for strong leadership...which will involve BCCI taking a central leadership responsibility", could yet prove most important of all.
How India chooses to administer its influence in a newly-formalised position of authority could underpin every other change.
In his closing comments, Isaac attempted to convey a sense of benevolence on the work of the big three and expressed dismay at some of the criticisms that met the draft.
"Several months ago I encouraged BCCI, CA and ECB to enter into a constructive dialogue together to help resolve some of the key commercial and governance issues facing the game," he said.
"These leading cricket nations have worked tirelessly to produce a document which provided the basis for the past few weeks of extremely constructive discussions.
"It is obviously very disappointing that a draft position paper from these members was leaked as this prompted a debate that ignored the ongoing negotiations between all members and led to unwarranted criticism of many of those involved in the process.
"The principles agreed today provide clear evidence that through the course of further discussions over the coming weeks we can be increasingly confident in achieving consensus."
CSA president Chris Nenzani made an additional statement following the ICC release, declaring that his own support for the agreed principles was contingent on the approval of his board.
"We will be convening a joint session of our CSA Board and certain key stakeholders as soon as is practically possible to consider the principles," Nenzani said.
"One of the hallmarks of our new administration has been an absolute adherence to the principles of good corporate governance and we do not intend to deviate from this. Our position will be subject to full consideration by our Board and other stakeholders."