Dhoni - We flopped
Mahendra Singh Dhoni lamented another batting no-show from his high-profile top-order as Australia drew first blood at the MCG.
Last Updated: 29/12/11 9:26am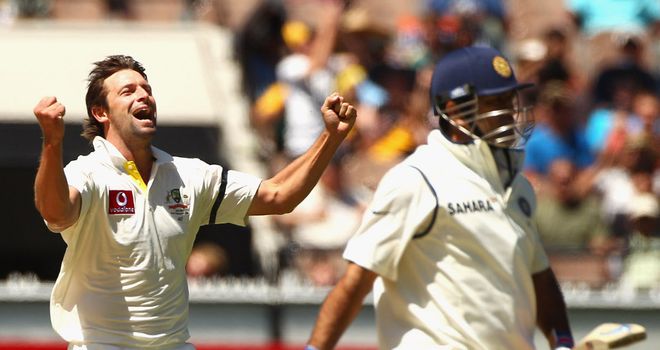 India captain Mahendra Singh Dhoni lamented another batting no-show from his high-profile top-order as Australia drew first blood in the Test series at the MCG.
Dhoni's men were skittled for just 169 in pursuit of the 292 victory target set by Australia on day four of the series opener.
The defeat means India have now lost five consecutive Test matches away from home and they now face an uphill battle if they are to record their first ever series triumph Down Under.
Speaking after the loss, Dhoni said: "I think our batting line-up flopped in both their innings.
Credit
"In the first innings they got off to a decent start but were not able to capitalise on it and fell 50 runs short.
"In the second innings wickets kept falling at regular intervals which meant getting close to 300 odd runs was becoming more and more difficult.
"You need to give credit to the opposition bowlers because of the line and length they bowled.
"I think they bowled really well. They pushed the batsmen to play most of their deliveries and at the same time the batsmen had to guess whether the ball was coming in or going out."
Man-of-the-match James Pattinson (4-53) led the Australia attack superbly in the second innings, ably supported by fellow pacemen Peter Siddle (3-42) and Ben Hilfenhaus (2-39).
"For me it's a dream come true to play for Australia and to be out there on Boxing Day, and against India with that batting line-up," the 21-year-old Pattinson said.
"I think I wasn't even born when Sachin started playing cricket, so to go out there and bowl against him, and have some success against their batsmen and get a win is even better."
Australia captain Michael Clarke praised his players and cited hard work ahead of the match as the key reason for the win, however he is refusing to get carried away with the result.
"They executed (plans) very well in this Test match," Clarke told reporters. "We deserve this win because of the amount of effort and time we've put into our preparation, but it means nothing come Sydney.
Criticism
"It's certainly a time to enjoy the success of this first Test match, but once tonight has gone it's about reassessing, working out how we're going to improve on this and come out all guns blazing in Sydney and try to win another Test match."
Clarke also defended his batsman after they had crashed to 166-8 before Mike Hussey's vital 89 rescued their second innings.
"What this Test match shows me, if we can knock over such a strong batting line-up like India for the amount of runs we have for this Test match, there's got to be something in the wicket as well, it can't just be our batters," Clarke added.
"We copped a bit of criticism for being out for not many in the second innings but there are reasons for that, there's reasons for Cape Town, there's reasons for Hobart.
"I'm really happy with our batters plans, we've been training as hard as any team I've been a part of, so we're doing all the right things and having the confidence and freedom to continue to back ourselves and I'm confident we can keep scoring runs."