'One of the greats'
Nasser Hussain says Rahul Dravid's vast experience must not be lost to Indian cricket.
Last Updated: 09/03/12 4:56pm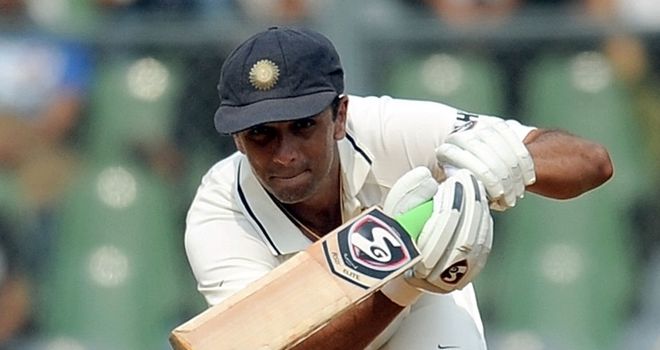 India would be 'foolish' not to draw on Rahul Dravid's vast experience now his playing days are over, according to Nasser Hussain.
Dravid announced his retirement from Test and first-class cricket at the age of 39, although he will continue to play in the IPL, after amassing 13,288 Test runs for his country.
Only compatriot Sachin Tendulkar has scored more Test runs than the right-hander, who was nicknamed 'The Wall' for his obduracy at the crease.
And Hussain told Sky Sports News that Indian cricket now owes Dravid a debt of gratitude.
"He was such an honourable man - he's a great guy on and off the field - and Indian cricket would be really silly at this stage when they are in a turnaround period not to use the likes of Rahul Dravid eventually," said Hussain.
"I think Rahul wants to spend a lot more time with his family, so the final decision will be with him himself but Indian cricket would be foolish not to use someone with the experience and class of Dravid.
"There are a lot of politics in Indian cricket and there are no politics with Rahul Dravid; he just ends up doing the right thing. So hopefully he will be used but one thing that won't be taken away is that he's a class act on and off the field."
Loved
Announcing his retirement in his home town of Bangalore, Dravid said that "deep down [he knew] that the time was right" to move on - and Hussain agreed with the timing of the decision.
"I thought it was a very dignified decision, to be honest," said the former England captain. "Rahul is not only as good as his last innings, he's as good as his last 20 years in the game. He has been an absolute legend for India.
"A lot of credit has gone to the Tendulkars of this world and rightly so, but look back at the last 10 years in particular and any time there has been a difficult moment or a difficult tour, Rahul Dravid has stood up for his country in a very dignified, honourable way. He was a great guy on and off the field and India will miss him.
"You knew that he wouldn't give his wicket away; he certainly wasn't someone who got to 40 or 50 and thought 'that's it, I've got enough - I'll try to show off now'. He was someone that you had to get out because he was never going to give it away.
"He loved batting; he was at his happiest when he was batting for India. He didn't do it for the fame or the money, he did it because he enjoyed batting and he enjoyed playing for his country.
"There were little technical issues that we could work on; recently he's been bowled out in Australia a bit and at times you could find his outside edge, but all those technical issues were very minor. His main strength was his mental strength for batting long and batting in difficult times."
Greats
Hussain was on the field when Dravid made his Test debut against England at Lord's in the summer of 1996, making 95 in his debut innings.
"It amazed me, as it does generally with young Indian batsman, the calmness and the technique that they have and you could always see in Rahul that he was never going to be fazed," reflected Hussain.
"He wasn't someone who you could sledge and get under his skin, he was very calm at the crease and had a very good, solid technique. He would play at the same tempo, whether he was 100 not out or 20 not out which meant he would never really show you any kind of weakness.
"No-one knew he was going to be an absolute great - he's up there with the Tendulkars, the Laras, the Kallis', the Pontings - the greats of the game ever."