The Overview: Day 1
Panesar's potency, Pujara's profligacy and The Rolling Stones' tour were the talk of the comms box in Mumbai...
Last Updated: 23/11/12 12:48pm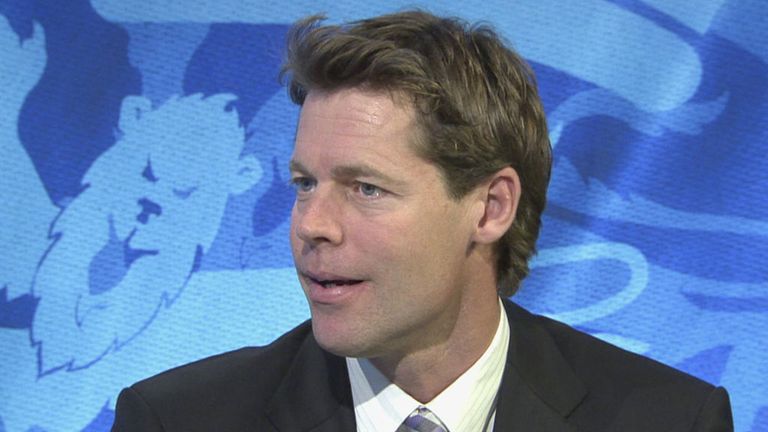 So said the Sky Sports experts (and most England fans) after an average Ahmedabad display helped India to seize an early series lead. And they got their wish.
But India, not content with being 1-0 up, went one better in the spin department as Michael Atherton explained after the home side - with Cheteshwar Pujara primed - chose to bat first for the second Test in succession...
Athers: It's another important toss - this is a used pitch, which is unusual for the start of a Test match. India came within a whisker of playing three spinners at Ahmedabad; although Umesh Yadav did well there, his back injury has given Harbhajan Singh a chance - it's nice to have a spinner with more than 400 Test wickets coming into the team!
Nasser Hussain: It's a bad toss to lose for England in as much as the side that India have picked. Having taken the gamble of playing just Zaheer Khan, had they lost the toss and were bowling first, their three spinner option becomes less lethal.
Athers: England are as expected. Bairstow comes in for Bell - it's a big test for him in his first Test on the sub-continent. He had a difficult time here in one-day cricket but I know he's been working really hard on his defensive technique, trying to go less across his stumps and down the pitch. Panesar comes in for Bresnan on a pitch they think will spin and bounce a little bit more than Ahmedabad.
Nick Knight: England do have three spin options too if you include Samit Patel. So England's side looks more balanced and they know now that they have to take their chances and this time it may be very different.
Things looked oddly familiar as Gautam Gambhir clipped the first ball of the match for four. But the opener fell lbw to James Anderson's next ball before Panesar cut short Virender Sehwag's 100th Test celebrations and bowled Sachin Tendulkar with a beauty to leave India on 87-3 at lunch...
Sir Ian Botham: It was a great start for England. It was good so see Monty Panesar brought into the attack after seven overs and he paid the captain and the selectors back straight away. He was obviously nervous at the start but he's come up with two big wickets.
Nass: Giving the ball to Monty before Swann is the right thing to do because I think he needs confidence. You want to get him into the game and also Monty sometimes produces these magical deliveries and the one that got Tendulkar was an absolute beauty. Any session that you get Gambir, Sehwag and Tendulkar out - that's 350 Test matches between them - you will take every single time.
England seem to have learnt from their mistakes in Ahmedabad. They've picked the right side and they've bowled their spinner early. We hear all this stuff about India play spin well, but if you have two quality spinners you've still got a chance in the sub-continent.
Athers: Remarkably, when Tendulkar got off the mark with a push down the ground there was massive applause in the press box! Then there was great silence when Monty produced that absolute jaffer! Actually, I don't think that Monty bowled that well at the start of his spell. He was very, very full and even the ball that got Sehwag was almost a full toss. Sehwag just played around it.
But the one that got Tendulkar was a jaffer - it got the right length and just encouraged Tendulkar to play slightly across the line. It really was a wonderful delivery and there was great, unconfined joy from Monty.
Nass: Athers is slightly harsh. Sehwag and Tendulkar are two good spinners of spin but it's Monty's drift in that's doing them. It's not quite the Gatting delivery from Warne, but it's the drift in and turn is what's done both of them.
England's pressure continued to bite after lunch, Panesar bowling Virat Kohli with a delivery that took a chunk out of the pitch and Graeme Swann snapping up Yuvraj Singh second ball...
David Lloyd: Kohli must have been done in the flight; the ball dips on him and he's not to the pitch of the ball; it spins on the disintegrating pitch and therefore it goes into the air. It was wonderful bowling.
Nick: That's a worrying sign and the England batsmen would have seen that. But they know it's not going to be easy second time around. I guess they've got mixed feelings about the game situation as it is.
Nick: Swann is so good bowling to left-handers because he gets you groping outside of the off-stump with the one that drifts and bounces and then he gets the slider that comes in straight.
But even from 199-5 India refused to fold and as MS Dhoni and Pujara rallied, thoughts in the comms box began to 'Drift Away' to the weekend's events at the O2...
Beefy: Will you be at the Stones concerts, Bumble? I'm going Sunday - it will be the first time that I've seen them live on stage.
Bumble: I've seen them three times and they're absolutely fabulous. I want you to tell me what they opened up with, what the set is. I can tell you that Mick Taylor is playing - possibly the greatest guitar player ever, with the Stones. Bill Wyman's making a guest appearance on bass.
With India 167-5 at tea, England could still feel a sense of satisfaction...
Athers: Dhoni has got exactly the pitch he asked for - one that spins on day one and takes the toss out of the equation. You'd have to say that if India with their three spinners can get anything over 350 or more then they'd feel that's a very competitive score.
Pujara doesn't look to have any technical frailties or faults that I can see. But when batsmen such as him or Michael Clarke out in Australia get into a run of form such as they are, they can be very difficult to dislodge. England have missed him - a very difficult chance to James Anderson in the gully - and it was Anderson who missed him in Ahmedabad as well.
Dhoni put on 50 with Pujara before he nicked a very low chance to Swann, giving Panesar a fourth wicket...
Beefy: That gully position is so important, particularly when it's bouncing and turning and that's a big wicket. MS Dhoni looked at the fielder and started to walk, then he stopped. The ball took the glove and Swann got his hand under it - there's absolutely no problem with that at all.
But Pujara continued to put the boot in and posted his third Test ton after a scare on 94, when the ball grazed the ground before deflecting off Cook's shoe to short mid-wicket...
Beefy: How good has he looked once again? the run-machine continues. 103 out of 229 says it all: concentration and more importantly terrific ability. He knows his strengths and his weaknesses, if there is a weakness - I'm not sure I've seen one yet.
Ravichandran Ashwin barely put a foot wrong - prompting a perhaps jaded Nass to draw comparisons to VVS Laxman - as he helped India to 266-6 at stumps...
Nick: I think India will feel slightly happier than England. England started the day so well having lost the toss but stoic defence and great skill from Pujara yet again has kept England at day. He finishes on 114no, ably supported by Ashwin on 60no and they will be delighted. It was very difficult batting conditions at times - there was lots of turn on day one in Mumbai. It's been a fascinating day's cricket. England will have gleaned some confidence out of the day - there's no question about that, Monty Panesar particularly, with his 4-91 from his 34 overs.
Watch day two of the second Test between India and England from 3.55am on Saturday on Sky Sports 1 HD.