The Overview: Day 2
Run-machine Cook, India's slack fielding and the pressure on Dhoni... Read our experts' views.
Last Updated: 06/12/12 12:50pm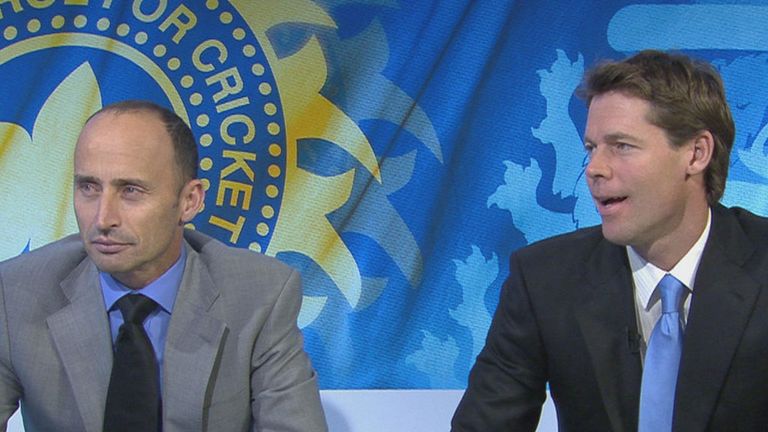 After bowling the hosts out for 316, and then reaching 22 without loss at lunch, Alastair Cook's charges were firmly in the ascendancy, but could scoring quick runs be a problem...?
MICHAEL ATHERTON: "The locals are a little beleaguered as it has been another good morning for England, who would definitely have settled for knocking India out for 316. I do think it will be a bit of a grind now, though, as we've seen Cook and Nick Compton look at the bottom of their bat and there is even less bounce on this second day, so it won't be difficult to stay in but for the grinders like Cook, Compton and Jonathan Trott it could be hard to score fluently."
Spin star Monty Panesar, who claimed 11 scalps in the second Test in Mumbai, took the wickets of Zaheer Khan and Ishant Sharma on the morning of day two. Our pundits sang the Sussex man's praises, but are still unsure he will play a major part in next year's Ashes...
ATHERS: "England go to New Zealand next where it is likely to be more seam dominated and then for the the Ashes in England I suspect they will go back to a three seamer, one spinner combination and it is very difficult to see how Panesar will replace Swann as the main spinner considering how Swann fields and bats.
"He is the bowling equivalent of the batsman who only comes in on feather beds! I don't think they will go to five bowlers as their reasoning will be that they are consistently knocking teams over with four bowlers, whether it is in England - South Africa excepted - or in sub-continental conditions."
NICK KNIGHT: "I said yesterday it would be a massive day for Panesar as he would be bowling on a pitch that wasn't spinning, so he would have to vary pace and outwit batsman and he has done that. I'm not promoting Panesar to play in the Ashes but he is a much better bowler now than he was two or three years ago and you can now bowl him as a holding bowler and he will pick up wickets and build pressure and his move to Sussex, which has allowed him to bowl in different conditions day in, day out, has improved him."
India skipper MS Dhoni had shown his class by racking up a half-century in his side's innings and the stroke-making right-hander's batsmanship, bowling options and captaincy soon became a hot topic...
ATHERS: "Dhoni is never the most engaged in the field and people who know him well say that he prefers one-day cricket and gets bored quite easily in Test match cricket, and that's why he has been asking for pitches that turn on day one. The runs will have done his confidence the world of good and he played very defiantly, right from the first ball on day one, when he had a mighty heave and nearly got out caught mid-wicket. He suggested he wasn't going to go down blocking and today, second ball to Jimmy Anderson, his drill down the ground was almost the shot of the innings. He likes batting here and has a good record."
BUMBLE: "Dhoni has a lot on his plate and the spotlight is always on him; let's not forget that this was supposed to be 4-0 India and revenge for the whitewash they got in England - but it hasn't been like that. England look to be the better team and on a pitch that isn't spinning, Dhoni has Ishant Sharma, who has taken 12 wickets in his last nine Test matches at an average of 87 and a 34-year-old, who is an excellent exponent of reverse swing - but not a lot else. What has he got in his head? His job right now, though, is to be a wicketkeeper - and he is not very good so he has a big job in that respect."
NICK: "I like Dhoni but he is inevitably under pressure as captain, as keeper and batsman, but I always think he will absorb pressure as he is cool, calm and authoritative and an excellent leader of men. There will be question marks about his form and that half-century won't make it go away but I think it has calmed him down within the team. If you sat down the 10 other players in that team and asked them if Dhoni should be captain, they would all say yes."
The second session saw England pile on the runs and by the tea break they were 121 without loss, and just 195 runs in arrears. Cook had continued his fine form to rack up 80, but opening partner Compton had accumulated 41, and won the praise of Nasser Hussain...
NASS: "Compton looks like a Test match player but he will have to work on the tempo of his innings, as Cook has had to. He will realise that he might be 40-odd not out after a long period but then after lunch find the boundary, like Sachin Tendulkar did on day one. However, he has learnt from his first-Test dismissal against Zaheer Khan when he got out lbw and was very closed off. He was more open today and has set it up for the sexy boys in the middle order, like Kevin Pietersen."
ATHERS: "I have been impressed by Cook, though; I don't think I have seen such a flow to his game before. The six he hit down the ground was very similar to the six he hit in Mumbai; he is very fluent and almost reminds me of David Gower! It looks like he is at the peak of his game."
SIR IAN BOTHAM: "Cook has to make the most of this as he has had his hard times and it wasn't that long ago when he was at The Oval against Pakistan in the last-chance saloon and we wondered if he would get it right - but and he has never looked back."
NASS: "Alastair still has technical issues, as remarkable as that sounds, but when he is in this form he forgets everything that's gone, good and bad, and all he is worried about is this innings. However, he should have been caught at slip and only Dhoni knows why Chetashwara Pujara was in the cordon and not Virender Sehwag."
So, England's batsmen are on song, not so India's fielders...
ATHERS: "There was quite a telling moment when Compton drove through the offside just before tea to bring up the 100 partnership and Yuvraj Singh and Ravichandran Ashwin looked at each other and neither of them wanted to chase the ball and Yuvraj, with the seniority that I think only comes in India cricket, waved Ashwin away to chase it.
"There is a sense that India have become disheartened and England now need to keep India, who have won or two aging bones, out in the field for another day and half. I think England will have their work cut out bowling India out again so they need to disintegrate them mentally and see how Sharma responds to a fifth or sixth bowling spell, and what they can do to Sehwag and Tendulkar minds."
England finished the day on 216-1, with Cook completing his century to become the highest ton maker (23) in English Test history. The adulation for the left-hander would not abate...
ATHERS: "I haven't seen a player bat with such certainty for England since Graham Gooch maybe right at the fag-end of his career in the early 1990s when he got on such a great run. They are more eye-catching innings, there are more eye-catching players but there was an inevitably about Cook today and when he was dropped by Pujara on 17 you felt he was going to get a hundred. He knows his game inside out and doesn't go out of his limitations, which are expanding all the time."
In summary, then, India have problems...
ATHERS: "Anderson has out-bowled India's seamers and England's spinner look more potent whether the pitch has spun or not and England have the whip-hand over the hosts. There is a long time left in this game and England's deficit is only 100 and they are going to knock that off by lunchtime tomorrow and that leaves them with three or four sessions to get a lead."
Watch day three of the third Test between India and England from 3.25am on Thursday on Sky Sports 1 HD.