India cricket captain MS Dhoni defiant ahead of fourth Test with England in Nagpur
Under-fire captain MS Dhoni accepts being under the microscope as part and parcel of playing for India.
Last Updated: 12/12/12 1:43pm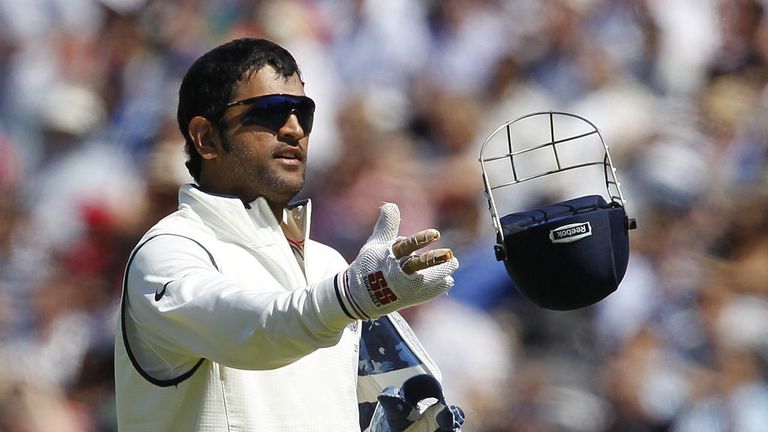 England have turned in two excellent performances to go 2-1 ahead in the series to stand within just a draw of claiming a rare win on the subcontinent.
Home fans have not been pleased and the India team have been facing a barrage of questions over their performances and their places in the Test side.
Dhoni's future as captain has been called into question while 39-year-old batting legend Sachin Tendulkar is being urged to call it a day in some quarters. However, Dhoni says that his side will come out fighting having been backed into a corner by England.
"In a way it's good that we are in a position like this - we have nowhere to go - and have to do well in this game," said Dhoni, who says he is used to being under the microscope.
"Everybody asks the questions that we are also asking, but nobody comes up with a solution. If you're part of Indian cricket, everything is under the microscope, it's a big part of our life to live like that and everybody has an opinion about it.
"That's how it goes in India."
Dhoni says Tendulkar is still worthy of a place in the side and says his team need him to produce what could be his final piece of Test magic.
"He's the best man to have in the side in a game like this, the amount of experience he's got and the kind of performances he's given under pressure over the years.
"He has proved everybody wrong throughout his career."
Defeats
Despite bitterly disappointing defeats in Mumbai and Kolkata, Dhoni insists the spirit in the dressing room is still good as they go in search of a series-saving Test win.
"The spirit is really good. That's something we have maintained quite well," he said.
"We have struggled in the last two Test matches but you have to be consistent; you have to keep faith in the players, people who have done a lot for Indian cricket over the years.
"We are still enjoying (our) cricket - which at times you don't tend to do when you're going through a rough patch."