India skipper MS Dhoni celebrates 'important' series victory over Australia
India captain MS Dhoni saluted his team after they wrapped up a 4-0 series victory over Australia in Delhi.
Last Updated: 24/03/13 3:24pm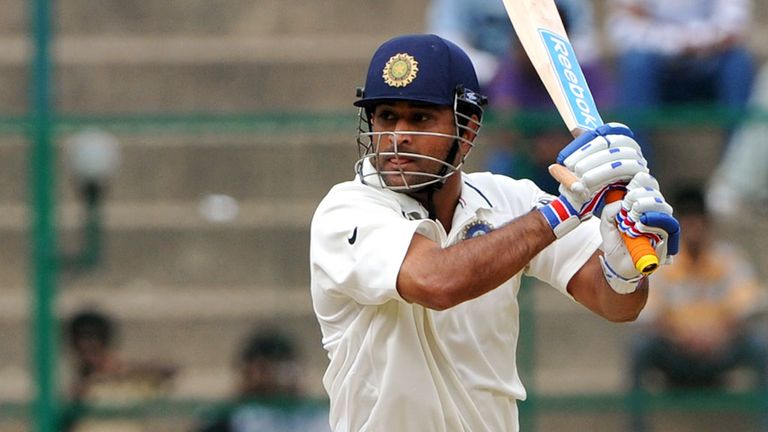 After losing at home to England, the pressure was on Dhoni and his team-mates to deliver against Australia, and they did so in spades, inflicting a whitewash.
It was only the second time in Australian cricket history that they have been whitewashed in a series of more than three Tests - the only other occasion being in South Africa in 1970.
It was Australia's seventh consecutive Test defeat in India, their worst run in any country, and it was also the first time India have won four Tests in a series.
"It is a big boost to win 4-0 with this unit. Credit goes to everyone. The last one-and-a-half years have not been great for us in Tests, but they showed a lot of character, put in good performance and battled it out," Dhoni said.
"You need to battle it out and that was the case in this series. I think it was an important series for us - there were a few changes in the side. It was up to the individuals to rise up and do well. I think they all did it, everybody performed."
In all four matches India had to bat second, and Dhoni was impressed with the way his batsmen rose to that challenge.
Turning
"Almost all the pitches were turning, and on all the wickets we batted second, which meant we had to face the Aussie bowlers in the fourth innings - we all know how difficult that is," said Dhoni.
"This wicket I thought it got slightly better. I may be wrong, but I thought yesterday (Saturday) was harder to bat on. The new ball did not turn as much.
"We get some time off now - no international cricket - and can regroup before the Champions Trophy."
Ravichandran Ashwin - who took 29 wickets in the four matches - was named man-of-the-series and he revealed he made some technical changes after having a comparatively lean time against England.
"Everything has gone pretty well, there were a few changes I had to make after the England series. I'm very happy at how it has come out. I had to work on my delivery stride," he said.
"We had very little time, I was lucky to have a coach to identify it pretty quickly. I definitely needed a kick on the backside and they gave me one."