Shane Watson says Australia's failure to post big first innings scores cost them dear
Australia's acting captain Shane Watson said his team deserved their 4-0 Test series thrashing at the hands of India.
Last Updated: 24/03/13 3:49pm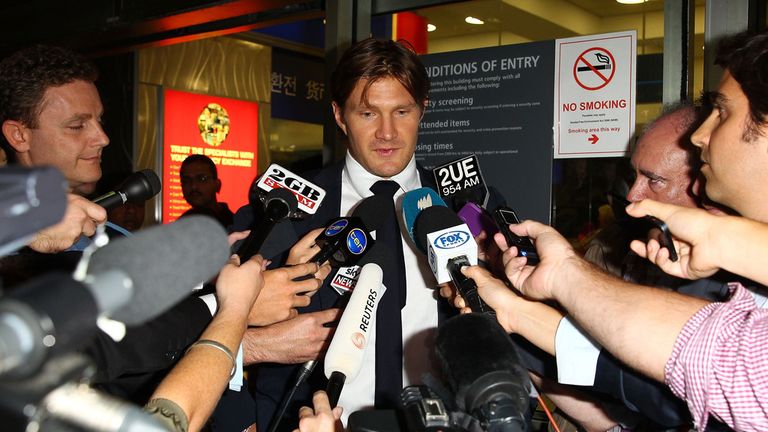 The Indians completed a series whitewash with a six-wicket win in Delhi on Sunday, the first time Australia have lost that many matches in a series since 1978-79.
Watson led the side in the final Test in the absence of Michael Clarke but the Aussies sank to defeat inside three days, after making scores of just 262 and 164.
And Watson said: "It's extremely disappointing. We came here with high hopes of having a good series and the 4-0 is what we deserved. The Indians have totally outplayed us.
"We haven't played to our best unfortunately. It certainly has been a big learning curve and one of the biggest challenges for us as a team is continuing to learn very quickly."
Watson himself averaged just 16.50 in the three Tests he played and, other than Clarke, his fellow top-order batsmen also failed to shine in the main.
"I haven't scored the runs that I wanted," said Watson. "That has been extremely disappointing, knowing I have played a lot of cricket here and I didn't score anywhere near the runs that I wanted.
Strive
"For all of us as top-order batsmen, it has been very disappointing. We have to be scoring big runs if we want to be considered in the top six and playing consistently. We've all got to continue to strive for what Michael has been able to achieve as a batsman.
"It just hasn't been good enough from all of us, especially in the first innings. The first innings really is the important one to get a big total. I'm the first one to put my hand up, because I certainly haven't been good enough in this series."
Watson said the contentious decision to suspend himself James Pattinson, Mitchell Johnson and Usman Khawaja for the third Test after they failed to complete a feedback exercise ended up bringing the team together.
"Michael and the leadership group had to make a decision," he said. "At the time I wasn't very happy with the decision that was made, but we've all sat down and had a great chat, and we've all moved on. We're really excited about the future that's coming up.
"It has been amazing to see how the team has really come together. There was a bit of collateral damage with a few of us going down and missing a Test match. What has come out of it has been a very united group."